The gas range is a specialized kitchen appliance with 4-7 oven burners to heat pots and pans. I used the word 'specialized' here because gas ranges give you full control over the cooking heat, which means you have more versatility while cooking.
So, using the best gas range for home chef, one can bake, grill, or sear faster and effectively with the right amount of heat.
What is the most reliable gas range? The gas range market is not dominated by just one brand; many brands out there. They offer different shapes, sizes, and models; among those, I have selected the very best ten here to review.
Let's dive in.
"The Nifty House earns a commission from the links below at no additional cost to you."
In A Hurry? Here Is Our Top 3 Recommended Gas Range For Home Chef
Top 10 Best Gas Range For Home Chef [Expert Reviews & Buying Guide 2023]
1. NXR SC3611 36″ Pro-Style Natural Gas Range – Best 36-Inch Gas Range
NXR Pro 36 Gas Range Reviews
Burners with Extreme to Delicate Heat Output
NXR SC3611 is a gas range that features six burners with extremely high heat to auxiliary heat. So, you can easily boil water or do any cooking that needs a high temperature. Also, you can do delicate cooking like melting butter without letting it burn all here on this gas range.
2 Different Heat Production for Grilling and Baking
NXR Pro 36 Gas Range comes with what you are looking for. For example, if you want to bake or grill at the same time, you can do it right here.
10,000BTU broiler output heat allows you to make grills. On the other hand, using 22,000 BTU heat, you can cook and bake quickly with less effort and time.
Most importantly you have an extra-large 5.5 cu. ft. oven that allows you to cook or bake large quantities of food at once.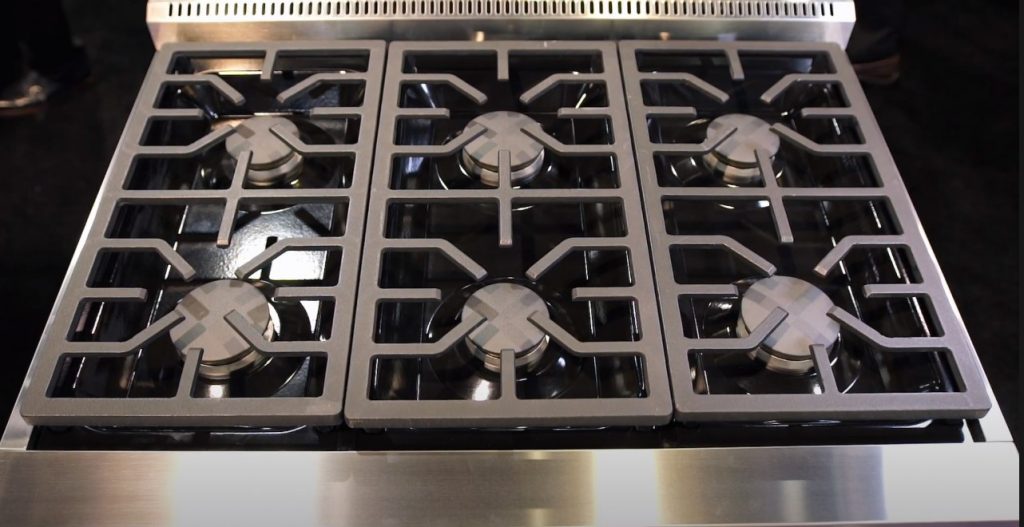 Convection Fan for Even Heat Distribution
Many people face a common problem with gas ovens, which is, uneven distribution of heat. But you'll not face the problem in this gas range. Because NXR SC3611 36″ Pro-Style Natural Gas Range features a convection fan that circulates air and ensures even heat distribution inside the oven while baking.
Beautiful Design and Easy Monitoring
The gas range is made using stainless steel to give it a modern look, and it will look beautiful in any kitchen. It is designed with a large viewing area, so you can monitor your inside food without opening the oven.
---
2. Cosmo 36-Inch Gas Range
Cosmo 36" Gas Range Reviews
Burners for Different Cooking Preferences
Cosmo F96NF is a dual-fuel range that has 5 burners on top of it. These burners have different heat output levels to fulfill your cooking needs.
The central burner has a heat output of 18,000 BTU for extremely high heat that can boil water instantly. Whenever you require cooking or boiling anything as fast as possible, this burner is here to do that.
Stainless Steel Matches Seamlessly With Your Kitchen
Cosmo's dual fuel range is built using corrosion-resistant stainless steel, which gives the range a unique look that easily blends with other kitchen appliances and makes it look eye-catching.
Electric Oven for All Your Baking Needs
The F96NF has an electric oven with 3.8 cubic feet capability, and as the oven is electric so it spreads the heat throughout the whole oven evenly and cooks faster than ever. This electric oven is great for any baking and features 8 excellent baking features.
Long-lasting and Easy to Clean
Premium 430 grades brushed stainless steel is used to make the rages, making it very durable and will serve you for a long time.
The construction material is fingerprint and smudge-resistant, making the range very easy to clean. Just wipe the gas range with a clean cloth, and it will shine like a new one. Also, its 2-year warranty makes it the most reliable gas range.
---
3. Cosmo GRP366 36 in. Freestanding Gas Range
Cosmo 36" Gas Range Reviews (GRP366)
Burners with Heat Control
Cosmo GRP366 is one of the best 36" gas ranges with 6 burners to fulfill different cooking needs. If you like to handle many food projects at once, then the six burners are a blessing.
Large Oven Fulfill Your Baking Needs
This gas range is a gas fuel range, and the oven uses gas as a source to produce heat. The oven size is quite big, and you can bake or cook large amounts of food at once inside this oven. The oven comes with 4 different functions for fulling all your baking needs.
Stunning Look and Long-Lasting Design
It is designed using corrosion-resistant stainless steel to give the gas range a beautiful modern look with durability. As the steel is corrosion resistant so even after a long time using it will shine as new. Its stunning looks make it easy to seamlessly blend with other kitchen appliances making your whole kitchen look even more beautiful.
Cleaning is Never This Easy
Cleaning a gas range may seem a bit of a hassle but not anymore if you have Cosmo ranges. The top surface is fingerprint and corrosion-resistant, so you wipe it, and it will be cleaned.
---
4. Frigidaire FFGF3054TS 30 Inch Freestanding Gas Range
Frigidaire FFGF3054TS Review
Sealed Burners for All Cooking Needs
Frigidaire FFGF3054TS is one of the best 30" professional gas ranges for home chefs with 5 burners. These burners have different heat outputs for different types of cooking.
Sometimes we are in such a hurry that we do not have time to waste on something simple like boiling water. In this case, it makes such tasks easier and faster. This range has a burner of 17000 BTU heat output that can boil water in no time. Also, the burners are cast with continuous grates that allow you to slide your pot or pans without lifting them.
Stainless Steel Modern Look
The gas range for home chefs is made using stainless steel which gives it a gorgeous look. And due to this modern look, it can easily blend with your other kitchen appliances.
Easy Control and Extra Space for Storing Cookware
The knobs of this gas range are stunning looking and long-lasting. Using this knob, you can easily control the cooking power and turn on/off the burner. For providing you with storage space for all your cookware, the range has a storage drawer. Now you can place all your cookware there and easily access them whenever you want.
Large Oven for Baking Needs
This is a 30-inch gas range, and it has a 5 cubic feet oven, which is a pretty big oven compared to other oven sizes of 30-inch ranges. Inside this gas oven, you can bake large quantities of food at once for your whole family.
---
5. Frigidaire FFGH3054US 30 Inch Freestanding Gas Range
Frigidaire Gas Range Reviews
Large Oven to Make Baking Easy
This 30-inch gas range from Frigidaire has a gas-powered oven with a capacity of 5 cubic feet, and that is pretty big. You can bake or broil inside this oven pretty quickly as it has an 18000 BTU bake burner and a 13500 BTU broiler burner. Also, there is a timer option available so that the oven can turn off after a certain time of use.
5 Sealed Burners with Optimum Heat Output
On top of this gas range, 5 seal burners can provide you a maximum of 17000 BTU for quick cooking to 5000 BTU for auxiliary cooking. If you like to cook all items at once, you'll find these 5 burners very handy. When you are in a hurry, you can finish all cooking projects at once using these 5 burners.
Clean with Ease
The gas range features self-cleaning technology. With this self-cleaning technology, cleaning is effortless and not a work of hassle. You have to click, and the range will clean itself in a 2 to 3-hour cycle.
Compact Size
This home chef gas range is very compact and can fit in any small to the medium-sized kitchen. If you have a small space, don't worry, it will fit easily in your kitchen.
---
6. Thor Kitchen LRG3601U 36-inch Gas Range
Thor Kitchen LRG3601U Review
Six Burners for Big Cooking Projects
Thor Kitchen LRG3601U has 6 burners that allow you to cook many food items at once. Also, the burners feature different BTUs for different cooking needs. So, no matter what you are cooking, you'll get the optimum heat option on this range.
Large Oven to Fulfill Baking Needs
Many of us are fond of baking, and to fulfill all your needs related to baking, right? Good news for you, this gas range has a 6 cubic feet extra-large oven. As you can see, the oven space is massive, and the oven has a maximum heat output of 18500BTU, and 10,000 BTU heat to make your baking and grilling effortless and quick. Large viewing makes it easy to monitor the oven while baking or broiling.
Get Evenly Baked Food From The Oven
There is a convection fan to distribute oven heat evenly. The fan produces enough air circulation inside the oven so that the air can spread all around equally.
Clean Without Hassle
For making the cleaning process as easy as possible, this gas range has a black porcelain drip pan. If something drops from above then it works like a container. So, you can easily clean it in no time.
---
7. ZLINE 48 In. Rangetop with 7 Gas Burners (RA48)
ZLINE 48-Inch Range Reviews
Professional Gas Range/Electric Oven With 7 Burners
If you have ever seen your favorite restaurant's kitchen, then you may have an idea of what a professional gas range looks like. This gas range from ZLINE has all the features that a premium gas range should have.
The gas range has 7 burners that allow you to cook many dishes at work, and due to different heat outputs, you can prepare different types of foods. In the middle of this 48" gas range, there are char-broil/griddle inserts.
So, you can swap between these two and use whatever you need. Also, continuous cast grill grates are all there for easy sliding to move pans from one burner to another.
2 Ovens for All Types of Baking Purposes
The gas range features two ovens, and among them, one is a convection oven. The capacity of these ovens is 6 cubic feet in total.
Even Cooking and Easy Cleaning
Electric convection fans circulate air throughout the whole oven to ensure even heat distribution. It makes the gas range easy to clean and features a one-piece porcelain surface that prevents it from getting dirty even if you spilled something on it.
It can be easily cleaned after every use just using a clean cloth. Also, it has a detachable burner top for making the cooktop easy to clean.
---
8. Summit 24-Inch Gas Range
Summit Gas Range Reviews
Designed for space-challenged Kitchens
If you have a small kitchen or less space available for a gas range and searching for a compact size range, this one is the ideal one for you. Summit Appliance RG244WS has a 24inch compact design to fit in a tight space easily.
Burners for Quick-to-Delicate Cooking
The four burners have a heat output of 12000BTU to 5000BTU, and for that reason, you can cook any food using the optimum temperature. Its 12000 BTU burner is good for quick boiling.
Easy Cleaning and Elegant Look
The gas range has a beautiful white finish that can easily blend with kitchen appliances, giving the whole kitchen a beautiful look. The cast-iron grates of the top of the burners are removable, and you can easily remove them for thorough cleaning.
Easy Baking and Broiling
The gas has a 2.4 cubic feet oven with a viewing window. The oven space is pretty ample, even though the gas range is designed to be compact.
The viewing window is pretty extensive, and it allows you to watch your baking inside the oven without opening it. This gas range from Summit Appliance also features a broiler compartment located below the oven. Using that compartment, you can quickly get a broiler within a short time.
---
9. 36″ Gas Double Oven Range – Prestige Series
Verona Range Reviews – Prestige Series VPFSGG365DSS
2 Ovens with Electric Turbo Convection Fan
In this part of the best gas range for home chef reviews, I have a 36-inch model from Verona that features two different size ovens for different baking needs. The large oven's capacity is 2.4 cubic feet, and the small has a capacity of 1.5 cubic feet. Also, the burners have a turbo electric convection fan attached for making even heat distribution.
Storage Compartment and Easy-fit
For making it easy for you to store your cookware, the gas range comes with a storage compartment. It is located below the dual oven, and you can put your cookware there for safe storage and easy access.
Durable Built, Eye-catchy Design, And Easy Cleaning
This Verona 36 gas range is constructed using corrosion-resistant stainless steel with a porcelain top. As the material is corrosion-resistant, so without any doubt, it will long last. The stainless steel gives the gas range a modern look, and the porcelain top makes sure it does not get dirty, making it easy to clean.
Sealed Burners with Continuous Grating
This 36-inch gas range has 5 burners with extreme to the delicate output allowing you to cook all your favorite dishes on this single range. The continuous iron cast grates allow you to move your pan from one burner to another without lifting it. Also, the central bag is pretty big with extreme heat output, and you can easily place your oversized pan/pots on it without any trouble.
---
10. Kucht Krg3618u Professional Gas Range
Kucht 48 Inch Dual Fuel Range Review
6 Burners with High Power Griddle
Kucht Krg4804u is the best professional gas range for the home with 6 burners and a high-power griddle. This griddle has a smooth cooking surface. So you can easily make sausages on it as it has 18,500 BTU heat. So that you can cook very fast within a short time.
2 Ovens for Daily Baking Needs
This professional gas range has two separate ovens to make baking easy for you. One oven has a capacity of 4.2 cubic feet with an infrared broiler burner. Also, this oven has a convection fan for even heat distribution. Another oven has a capacity of 2.5 cubic feet.
Convection Fan Distributes Even Heat
This gas range comes with a convection fan, which circulates air inside the oven to distribute the heat evenly for an evenly cooked meal. Due to this dual convection fan, your food is cooked quickly and needs less temperature than others.
Heavy-duty and Modern Looking
The gas range has a classic sliver outlook that blends easily with your kitchen interior. The stainless-steel construction makes the range very durable, and it will serve you for many years to come without any trouble. Also, the knobs and handles of this range are of a professional grade for heavy-duty performance.
---
Buying Guide: Best Gas Range For Home Chef
Gas ranges do not come cheap, and it's more like a serious investment. So, you have to buy a model that is durable and built to last. You cannot just buy a random gas range for cooking, right? So before buying a gas range for a home chef, you must consider some features. These are-
1. How Much Space You Can Allocate for A Gas Range?
What is your preferred gas range size?
The first thing you have to consider is the size of a gas range. You can measure available space in your kitchen to determine the gas range size. If you have plenty of space available, then you can choose according to your need. To cook for a big family, you surely need a larger size gas range. We recommend buying a 30 or 36-inch gas range, and these two are the ideal size as a home chef gas range.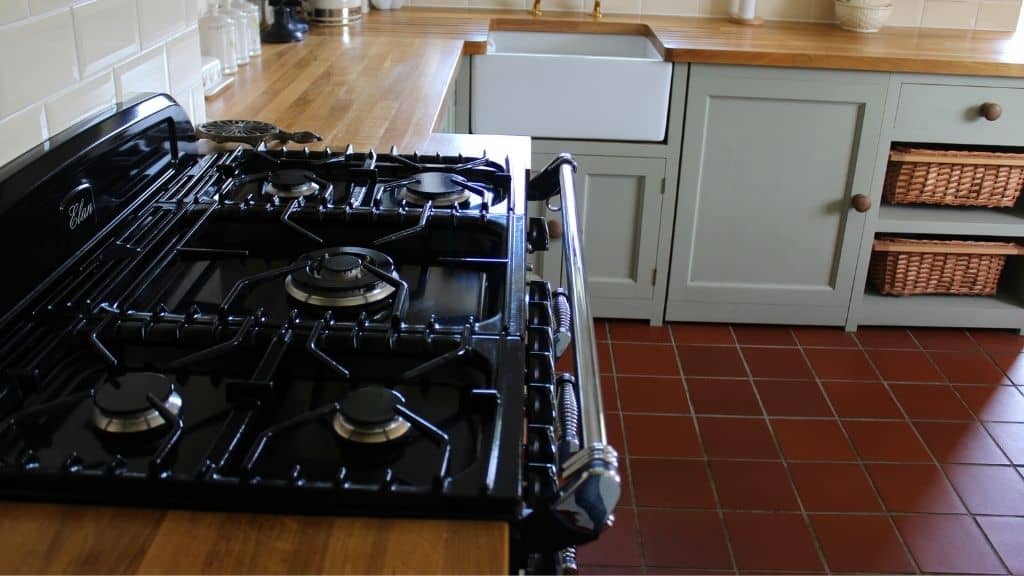 2. Does the Design Match with Your Kitchen?
As we have mentioned before, gas ranges are expensive, and it is not an item that you change daily. So, you should choose the design of the gas range very carefully as you are going to use it for many more years. Choose a gas range that matches seamlessly with your kitchen.
Along with the looks, different models have different features. On a 30-inch gas range, there will be four burners on top of it. But on a 36-inch model, you can either have 6 burner options or 4 burners with a griddle or grill option.
3. How Much BTU Power Actually Required for Your kitchen?​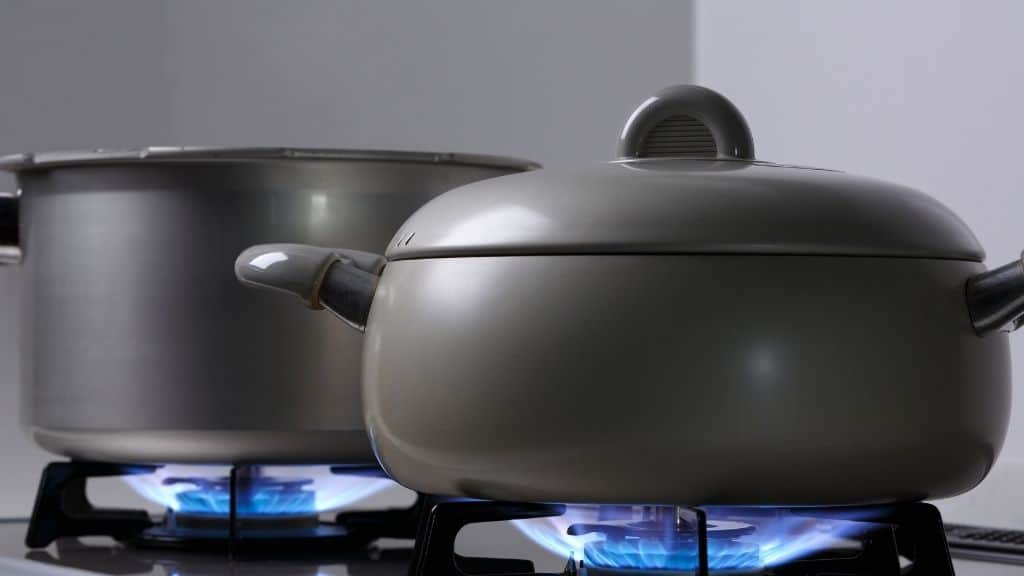 The cooking power of a gas range is a crucially important feature to consider. The heat output of a gas range is measured using a unit called BTU. BTU stands for British thermal unit. In simple words, BTU measures heat output, and more BTU means more heat.
The heat output is an essential feature of cooking. In a particular situation, the BTU range definitely plays a vital role. It determines how quickly or slowly you can cook your favorite dishes.
Some top-quality gas ranges provide 20,000 BTU, while some delicate gas ranges provide several hundred BTU of heat. But you'll not just boil water using the gas range, some tasks like warming soup, melting butter, or chocolate need lower BTU. So, gas ranges that can provide different heat outputs on the different ovens are ideal for any cooking need.
4. Number of Burners
If you like to cook several food items at once, then a gas range with more burners is a suitable choice for you. But if you want more space on the range and put your big-size pots and pans conveniently on the ovens, then 2 – 4 burners with the ideal size are required.
5. Modern Features for Cozy Cooking
Nowadays, everything is becoming smart with modern features, and gas ranges are not lacking behind. Many modern features, like Wi-Fi control, automatic on-off, touch control, etc. are available in gas ranges to make your cooking experience even more enjoyable and effortless with the help of technology. But you may note that more features mean more price. So, choose a gas burner with features that you'll really use daily.
6. Does Your Gas Range Ensure Safety?
The best gas range for home chefs must contain safety features, and while working near the fire, you have to be conscious. Gas ranges with auto-locking features are great to avoid any type of hazard. Also, auto-reignite features work impressively; in any case, the flame goes out to keep you safe.
7. Easy Cleaning and Maintenance
Many of us find cleaning very disturbing, so if you are someone like them, then a self-cleaning gas range is an ideal choice for you. The gas ranges that have stainless steel designs are pretty easy to clean. Try to select a model with auto-clean technology.
8. Did Your Gas Range Come from Reliability Company?
As you are investing quite a lot of money or buying a gas range so you should choose a brand that you can rely on. The gas ranges that come with a warranty are a great option because of a company's warranty for a product when they are confident enough.
So those will be durable, well-built and you can be used for quite a long time without any difficulty. So, in this case, brand value and reputation come into consideration along with the warranty period.
Slide-In Vs. Freestanding Gas Range
The primary difference between a slide-in range and a freestanding range is that the slide-in range is designed to fit under the counter, while the freestanding range is designed to be placed on a countertop. Both types of ranges are used for cooking, but the primary difference is that the freestanding range can be used in more places, whereas the slide-in range cannot.
When deciding on a slide-in or freestanding stove, you need to remember: The size of your room. What you're using it for: cooking, baking, roasting, etc.? How much room is available in the kitchen? Comfort and style versus functionality need to work together.
Convection Vs. Conventional Gas Range
Convection ranges typically provide more control over the cooking temperature than conventional gas ranges, which rely on the same amount of heat throughout the oven. Convection ranges also tend to be more powerful because they use fans to circulate hot air throughout.
The downside of convection ranges is that they're usually much more expensive than conventional gas ranges. However, the difference in price between these two types of ranges has decreased significantly over the past few years, making them a better investment in the long term.
One last thing about these ranges is that generally speaking, they tend to have larger burners with fewer knobs or buttons around them for easier use.
Which One Is Better: Gas or Electric Cooktop?
This is a tough question because they both have their pros and cons. Let's understand the difference between them first.
Gas cooktops use gas, which is heated to produce heat for cooking, whereas electric cooktops use electricity, which is also converted into heat for cooking. This can be more convenient than using gas but comes with its own disadvantages as well.
Pros of Gas Cooktop:
Gas cooktops are easier to clean than electric ones because they are not made up of numerous small parts that require regular cleaning.
They tend to be cheaper in the long run since you will need less electricity for cooking on them compared to an electric one.
Gas cooktops generally have higher efficiency levels when it comes to power consumption and heating food evenly across the surface area of the pan or pot being used on them.
Cons of Gas Cooktop:
They are louder than electric cooktops, making it difficult to hear your guests over dinner conversations while you're cooking on them.
Reviews of the Best Gas Range for Home Chef
I have researched the top 10 best models of gas ranges for use at home. These gas ranges are durably made, come under the warranty of reputed brands, and are feature-rich. So, you can use those without worries for a long time.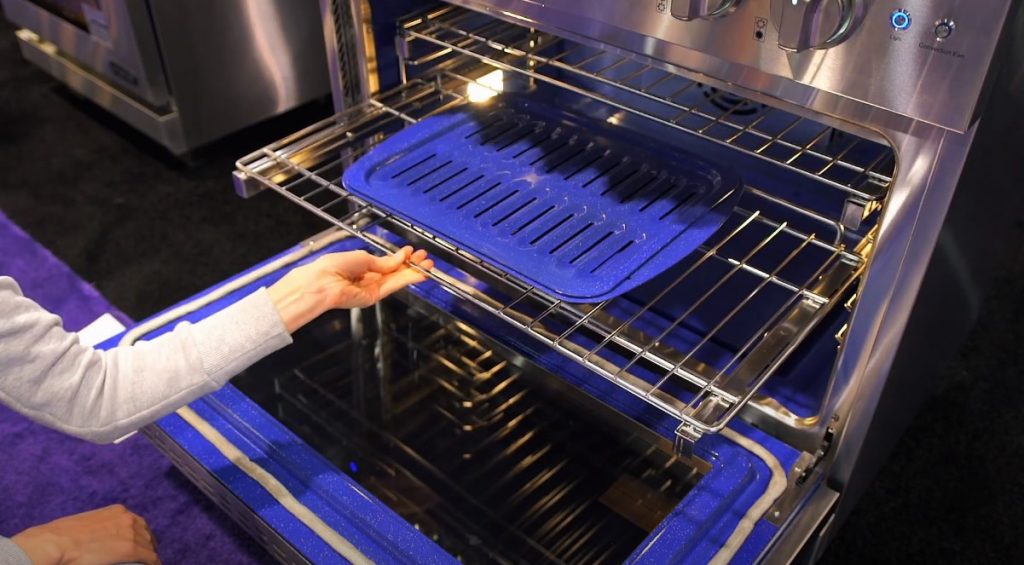 Final Verdict
Hopefully, finding the best range for home chef becomes much easier for you after reading this guideline. Gas ranges are versatile kitchen appliance that assists you to improve your cooking skills. So, you can't avoid picking the best-suited gas range.
If you ask me What are the best gas ranges? I must say, NXR Pro 36 Gas Range is the best gas range for home chef as it has all features that match all the requirements of the home chef, additionally, it comes at a reasonable price. It has a modern look and a large viewing area allows you to see the inside food instead of opening it.
Let us know if you have any questions. Feel free to comment in the below box.
Best Gas Range For Home Chef (FAQs)
Related Post