You may have installed some beautiful tiles in your bathroom. Maybe because it's eco-friendly, durable, water-resistant, cost-effective. Or maybe just because it gives you some kind of posh and luxurious look.
In short, tile floors are amazing. However, these amazing pieces of ceramics can turn your life upside down if you don't know how to take care of them.
Luckily, having the best tile floor cleaner machine can solve your problem. And after doing hours and hours of intensive research, we have listed the top 10 Best Machine to Clean Tile Floors and Grout.
Sit back and take a coffee. I believe you are going to enjoy this.
"The Nifty House earns a commission from the links below at no additional cost to you."
In A Hurry? Here Is Our Top 3 Machine To Clean Tile Floors And Grout
Table could not be displayed.
Top 10 Grout Cleaning Machines [Expert Reviews & Buying Guide 2023]
1. McCulloch MC1385 Deluxe Canister Steam Cleaner
McCulloch MC1385 Deluxe Canister Steam Cleaner Review
If you need a floor cleaning machine for your home with multiple tools and cleaning features then look no further. This McCulloch MC1385 Deluxe Canister Steam Cleaner is the best machine to clean tile floors and grout.
You can use it to clean your home, car, RV, garage, tiles, grout, and many more things. All you have to do is, just pour water into the tank. It will increase the water temperature to 200F and make sure you have an optimal cleaning experience.
Cleaning Without Chemicals
What amazes us the most is, this tile-scrubbing machine doesn't use any chemicals to do the cleaning. It releases hot steamed water at 200F temperature and does the cleaning for any kind of surface.
Also, the temperature is so high that it kills most of the germs and bacteria. So, we can say this is a very hygienic way of cleaning.
Large Water Tank
This McCulloch MC1385 is the best floor cleaning machine in terms of water tank size. It can contain 64 ounces of water which needs only 12 minutes to get hot. After that, you can have 120 minutes of uninterrupted cleaning experience.
Also, there are steam control options available. You can lock your steam pressure at different settings to maintain a certain level.
23 Cleaning Tools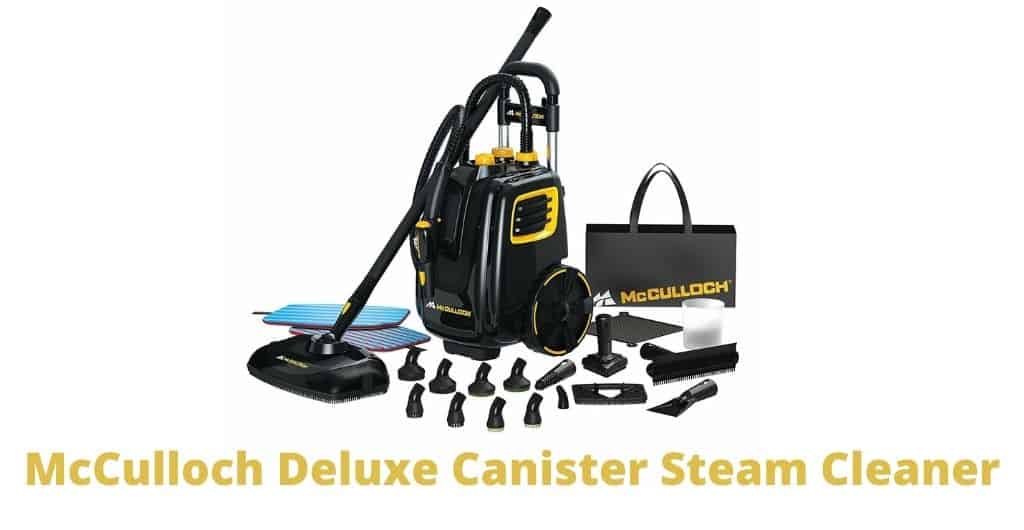 You may agree with me that there is no other tile cleaning machine that comes with 23 cleaning tools. This McCulloch MC1385 offers a floor mop, nylon brushes, mop pads, angled nozzle, brass brush, scrub pad, scraper, and many other accessories in the standard package.
You may clean almost all kinds of surfaces with this. However, in our opinion, this is the best steam cleaner for tile and grout.
Extra-Long Cord and Hose
This McCulloch MC1385 comes with an extra-long 18-foot power cord and a 10-foot steam hose. So, you don't have to worry about any large surface area. This is basically a tile-cleaning machine for home use.
Drawback
The handle it provides is not so big. If you are a very tall person, cleaning with this home floor scrubber may not be very comfortable.
Also, there is nothing to hang the hose. You may need to drop it on the floor if you decide to take a break between cleaning.
Pros
Chemical-free cleaning
Steam sanitization
Comes with 23 accessories
1.8-liter water tank
Extra-long 18-foot power cord
10-foot steam hose
12 minute heat up time
120 minutes of continuous steam
Cons
The handle is not suitable for tall people
Unable to hang the hose between cleaning tasks
---
2. Dupray Neat Steam Cleaner
Dupray Neat Steam Cleaner Review
Looking for a steam cleaner that can clean almost everything? This Dupray Neat is the best multipurpose steam cleaner available in the market.
You can use this machine to clean hardwood floors, tile floors, grout, kitchen appliance, furniture, bathroom, car seat, and many more.
18 Cleaning Kit
If I start naming all the accessories here, you might be shocked! It comes with Floor Tool, Window Tool, Extension Tubes, Triangular Tool, Microfiber Bonnet, Nylon Brushes, Brass Brush and what not!
With the help of these tools, you can clean almost everything you have in your possession. But there is one thing that no other floor cleaning machine does, the ceramic tile! This is the best ceramic tile cleaning machine according to our research.
Grout Cleaning
It will work like a grout-cleaning machine if you attach the right tool. Now you can deep clean your grouts by using this Dupray Neat Steam Cleaner and making them shine like a star.
The performance is pretty good compared to the dedicated grout machines.
Cleaning with Normal Pads
You don't need to purchase expensive cleaning pads. Just use a normal towel with this floor cleaner machine and it will work just fine.
Heat and Steam Capacity
If you use normal water, it will take mostly 7 minutes to heat that. The temperature can go up to 275°F which is more than enough to ensure proper sanitization.
54 oz water tank can deliver 50 minutes of steam for a hygienic cleaning experience.
Drawback
If you have a big house, 50 minutes of cleaning time might not be enough for you. In that case, consider our number one pick.
Also, the heat may damage luxury tiles. So, you may need some experience of controlling steam heat.
Pros
275°F powerful heat
Works best for cleaning ceramic tiles
Comes with 18 cleaning kits
Can be used with normal towels or cloths
Takes 7 minutes to heat up
50 minutes of steam cleaning
Ideal for use on both tile floors and grout
Cons
Not suitable for non-stop cleaning (not ideal for use in big houses)
Luxury tiles may be damaged by high heat
---
3. Tilswall Electric Spin Scrubber
Tilswall Electric Spin Scrubber Review
Corded Electric steam cleaner doesn't suit you? How about a cleaner that runs on battery?
This Tilswall Electric Spin Scrubber is by far the best battery-powered tile and grout cleaning machine. Let's discuss what exactly it offers.
Powerful Battery
If you think battery-powered cleaners are less powerful then Tilswall Electric Spin Scrubber might prove you wrong. It has a 4000 mAh Lithium-ion battery that can produce 300RPM and 35.4 torque.
You can have 180 minutes of runtime which is enough to clean an entire house in one go.
Metal Parts
This tile scrubbing machine is mostly made of metals. It has a patented poly-ring that can resist 60kg of torsion to ensure better durability. It allows the home floor scrubber to have a longer lifespan.
There is an extended handle which is also made of stainless steel. It seems Tilswall didn't compromise on their quality.
Extension Arm
You don't have to go to your knees if you want to use this cleaner. Just increase the scrubber arm length and adjust it according to your height. It can go up to 43 inches which is enough for a tall person to use it comfortably.
4 Brush Heads
It comes with four different brushes to ensure you have an all-rounder solution for cleaning.
The round brush is perfect to clean your sink and bathtub, the flat brush is great for cleaning the stove and small areas, the wide brush is an ideal choice for flat surfaces, and the pointed brush is to clean your corners and hard-to-reach areas.
Lightweight and Portable
The weight of this home floor scrubber is only 3.78 pounds. Since it's battery-powered, you can easily carry it anywhere you want to clean it.
Drawback
Since it's a battery-powered cleaning unit, deep cleaning with this tile floor scrubber might not be ideal.
Pros
4000mAh battery power
Can run for up to 180 minutes
Patented poly-ring ring
Made of metal parts
Lightweight and portable
Comes with 4 replaceable brushes
The scrubber can be extended to 43 inches
Cons
Not recommended for deep cleaning
---
4. Oreck Commercial ORB550MC
Oreck Commercial ORB550MC Review
If you are still reading this, I assume you didn't get what you are looking for. Well, how about an industrial tile cleaner? This Oreck Commercial ORB550MC is a professional tile-cleaning machine with optimal raw power and capacity.
Besides, it has a special ability to clean hard floors and carpets. Give it a try if you want to go professional in the cleaning industry. Trust me! You won't regret it.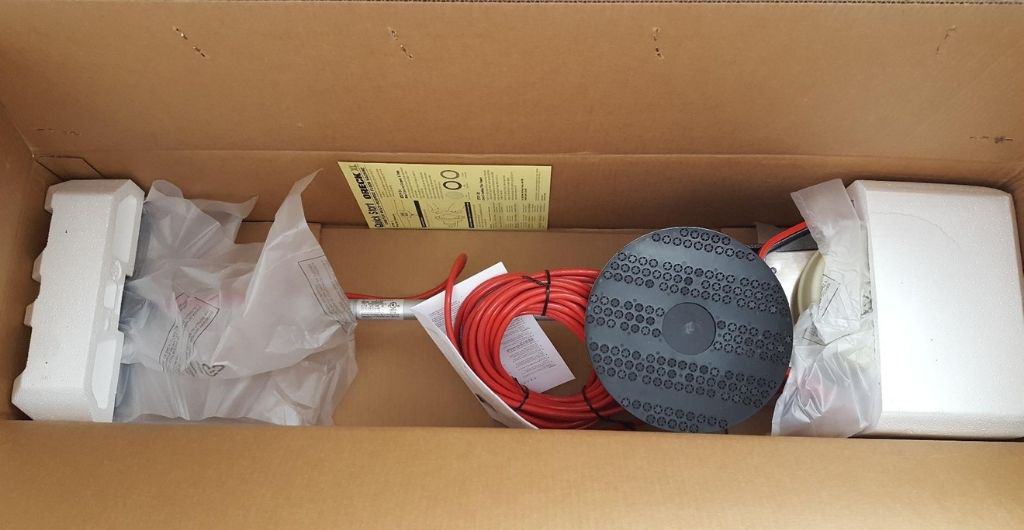 Random Orbital Drive
This is the most interesting feature of the Oreck Commercial ORB550MC. Unlike the conventional steam cleaner, it has an orbital drive that rotates the cleaning brush in a random direction.
Thus, the cleaner is moving forward with each rotation. And the 13-inch wide round-shaped path makes the cleaning more efficient.
Carpet Deep Cleaning
This Oreck Commercial ORB550MC is not your ordinary industrial tile cleaner. It allows you to deep clean any surface, especially carpets. All you have to do is attach the right tool and you are good to go.
And it works best as the tile floor and grout cleaner machine.
50-foot Power cord
As far as we know, there is no other cleaner that comes with a 50-foot Power cord. You can basically connect it to the outlet and clean the entire home/apartment. Never have to worry about the cord unless you want to clean a stadium.
Drawback
The price of this Commercial ORB550MC is very high. If you are not a professional, we highly recommend you avoid this product.
Also, the attachments and chemicals are sold separately. You may have to spend some extra money on that.
Pros
Random orbital drive
Deep cleaning capability for carpets
50-foot power cord
Can be used on many types of surfaces
Ideal for professional use
Cons
Requires the use of harmful chemicals for cleaning
Chemicals are sold separately
May not be affordable for everyone
---
5. Grout Groovy Cleaner
Grout Groovy Cleaner Review
Cleaning tile grout with empty hands can be very annoying. But Grout Groovy Cleaner might solve your problem.
It doesn't matter what kind of tile you have. You can use this best grout cleaning machine to enhance your cleaning experience.
Nylon Brush
Grout Groovy Cleaner has a brush wheel that is made of nylon. Once the cleaner is turned on it rolls the brush wheel from top of the grout and makes it shine.
This tile grout cleaning machine works best on ceramic and porcelain tiles. All you have to do is change the brush wheel after 500 sq. ft MOL.
Lightweight and portability
This is the best grout cleaning machine in terms of weight. The 4-pound unit is super flexible and easy to carry forward. You don't need to do any extra hassle if you want to clean different areas in your home.
The cord length is 20 feet. So, you just have to make sure there is a power outlet within a 20 feet radius.
Save Time and Money
Another good thing about this grout cleaner machine is you don't need to spend extra money on cleaning tools and accessories. If you have your regular soap and water just spray it with the Grout Groovy Cleaner. It will start cleaning your dirty tile grout and give it a brand-new shiny look.
Instruction in Website
Even if you are new to the tile floor scrubber machine, you will have no problem using the Grout Groovy Cleaner. They have clear instructions and user manuals on their website which is super easy to follow for any beginner.
Drawback
Being just a grout cleaning machine, the price of this product is a bit high. Also, wall corners are difficult to clean.
Pros
Specialized in grout cleaning
Nylon brush wheel
Lightweight and portable
Easy to assemble
Clean user instructions on the website
Cons
High price point
Difficult to clean wall corners
---
6. Pureclean Steam Cleaner
Pureclean Steam Cleaner Review
Missing the deep cleaning feature? Pureclean Steam Cleaner is the best tile floor cleaning machine that comes with deep cleaning ability. This might be a common feature for a steam cleaner, but Pureclean does an excellent job in this section.
Power and Heat
This 1500w floor cleaner machine can draw 120v power for an optimal cleaning experience. It takes 8 minutes on average to heat the water. The temperature is more than enough to clean a medium size house without taking any breaks.
Natural Steam and High Capacity Tank
This is the best tile floor cleaner machine in terms of high-water tank capacity. It can carry 1.5 liters of water to perform necessary steam functions.
Once the water gets heated, it can deliver 45 minutes of constant steam water. Now you can clean grime, grease, stains, mold, and bugs without using any harmful chemicals.
18 Accessories for Different Needs
It doesn't matter whether you are involved in indoor or outdoor cleaning. This tile floor cleaning machine comes with 18 accessories. Now you can do spot cleaning and deep cleaning by using steam power. It works best for hard floors, cars, garages, furniture, bathroom tiles, grout, and many more.
Drawback
During our research, we found out it has a bad reputation for cleaning sofas and upholstery. Many users have complained about this. You may have to go for another multipurpose steam cleaner if you need to clean upholstery.
If you need to clean lots of items or large floors then 45 minutes of cleaning time might not be enough. Though, you can start cleaning again once the water tank is refilled.
Pros
1500W powerful steam
Comes with 18 cleaning accessories
Does not use any harmful chemicals
1.5-liter water tank capacity
Takes only 8 minutes to heat up the water
Can run for 45 minutes
Ideal for use as a tile floor scrubber
Cons
Not ideal for use on sofas or upholstery
45 minutes of run time might not be sufficient for cleaning large floors
---
7. Bissell Powerfresh 2075A
Bissell Powerfresh 2075A Review
I was wondering What could be the best machine to clean tile floors with steaming and scrubbing? Guess what have we found! This Bissell Powerfresh 2075A is a home floor scrubber that can deliver both of these.
Turns out this is one of the best rated home tile grout and floor scrubbers on my list.
Powerful Steam
The steam power of this Bissell Powerfresh 2075A is amazing. It takes only 1 minute to heat up the 11.8 oz water tank. Once you get enough heat, you can start cleaning everywhere.
You would be happy to know that it doesn't use any chemicals for cleaning.
Long Power Cord
Bissell offers a 25-foot long power cord with this cleaner so that you can clean any "difficult to reach" areas. By using steam power, you can reach anywhere and kill 99 percent of bacteria.
Onboard storage kit
This kit helps you to carry all the cleaning tools so that you can use them anytime you want. With the help of the right tools, it can also work as the best handheld steam cleaner.
Pet Foundation
On top of these good features, Bissell is actively working for pets for a long time. They have a foundation dedicated to pets. If you are someone who loves these cute little animals, you may admire what Bissell is doing and would love to contribute.
Lightweight
The weight of this floor cleaner machine is only 6 pounds. Generally, battery-powered cleaners can be less than 10 pounds. It helps you to carry this unit from one space to another. Very convenient in our opinion.
Drawback
The water tank size is only 11 oz. You may have to refill the tank between cleaning. If you don't like interruption, going for a cleaner with a large tank would be wise.
Pros
Powerful steam capacity
On-board storage kit
Lightweight at only 6 pounds
Multiple cleaning tools included
25-foot long cord
Can function as both a steam cleaner and tile scrubber
Cons
Small water tank capacity
May not be ideal for long-term cleaning tasks
---
8. Oreck Orbiter All In One Floor Cleaner
Oreck Orbiter All In One Floor Cleaner Review
If you are looking for an all-in-one professional tile-cleaning machine then look no further. This is one of the best commercial tile floor cleaners you can go for right now.
By using this tile scrubbing machine, you can remove grout stains from your tile floor. Also, it can restore the shine of your marble tiles if you use the right cleaner and sealer.
Carpet Deep Clean
Generally, industry-grade tile and grout cleaning machines don't focus on multiple functions. But this Oreck Orbiter All In One Floor Cleaner does. Now you can deeply clean your carpets along with tiles and grouts.
Tools and Cleaning Features
This Oreck Orbiter is capable of cleaning any sand, scrubbing, stripping, ping, and many more things. With the right cleaning kits and scrubbers, it can also polish your marble and wax all kinds of surfaces.
If you need to shine your tiles or floor then this might be something you should consider.
Warranty and Tune-ups
Using an expensive industrial tile cleaner might need some extra care. That is what Oreck is offering. This Orbiter comes with 10 years of warranty where you can also have 10 complimentary tune-ups.
You don't need to be stressed if anything goes wrong.
Drawback
Most of the essential cleaning tools like pads, sealers, and scrubbers are sold separately. On top of that, the product itself is expensive.
Also, the chemicals may damage luxury tiles if you don't know how to use them properly. And if your grout is thin, it might damage that too.
Pros
Powerful cleaning machine
Deep cleaning capability for hard floors and surfaces
Great warranty and services
Can remove stripes and grout stains
Suitable for use in both home and industrial cleaning
Ideal for use by professionals
Cons
Tools are sold separately
May not be affordable for everyone
Only recommended for professional use
---
9. Light N Easy Floor Steamer
Light N Easy Floor Steamer Review
Light N Easy is known for its technological advancement. As a result, they have come up with this smart steam cleaner with lots of features. With different cleaning tools and multiple power settings, this might be your tile cleaning machine for home use.
Fast Heat
Imagine, your steam cleaner starts cleaning immediately after you pour the water. Won't it be amazing?
This Light N Easy Floor Steamer needs only 30 seconds to heat up the water. That means you can just plug in and start cleaning in no time!
Multiple Power settings
There are three different steam power settings available in this cleaner. When you are dealing with stubborn stains you can use the high-power settings. Medium and Low steam settings can easily handle regular cleanings.
Safety Feature
Whenever your cleaner is positioned upside down, it won't release any steam power. So, your pets and kids are safe even if you leave the cleaner for a while.
Drawback
If you use the steam mop, the floor might be a little bit wet after you finish cleaning. Also, the cleaning towel often falls off.
Pros
Only takes 30 seconds to heat up
Lightweight and portable
Multiple cleaning options
Multiple cleaning tools included
Safe for use around kids and pets
Can be used as a handheld cleaner
Ideal for home use
Cons
Floor may become wet after using a steam mop
Cleaning towel may fall off frequently
---
10. PurSteam Steam Mop Cleaner
PurSteam Steam Mop Cleaner Review
Not satisfied yet? How about a steam mop cleaner?
You can steam clean your complete house by using it. This PurSteam Steam Mop Cleaner comes with multiple tools to steam clean and sanitize your whole house.
It doesn't use any harsh chemicals to steam anything. So, you can even clean your clothes with the right tool.
Triangle Shape
The main cleaning head is triangle shaped. So, you don't have to worry about difficult corners. Cleaning under the furniture is very convenient with this steam mop cleaner.
Only 6 pounds
There are only a few steam cleaners available that are below 10 pounds. By using the right tool, you can use it almost anywhere you want. This is very easy to carry from one place to another.
Drawback
The build quality of this cleaner is not so good. That is the main reason we put this product at the bottom of our list.
Also, the water tank capacity is only 250ml. And there are complaints about bad packaging and missing parts.
Pros
Triangle shape design
Safe for use around kids and pets
Works well on many types of surfaces
Considered to be one of the best steam mops on the market
Can be used as a handheld cleaner
Cons
Build quality is not good
Small water tank capacity of only 250ml
Multiple complaints about poor packaging
---
Buying Guide: Best Machine To Clean Tile Floors And Grout
After reading this best tile floor cleaner machine consumer reports gives you a detailed guide. The aim of this buying guide is to educate you about tile floor and grout cleaners.
1. Types of Tile floors and Grout Cleaners
There are mainly two types of tile and grout cleaning machines.
Floor scrubber
Steam mop cleaner
Best tile floor scrubbers generally clean your floors by rolling the brush heads. On the other hand, Tile steam cleaners release steamed hot water and evaporate the surface while cleaning.
Floor scrubbers are great for general cleaning purposes. However, you may need the best steam mop cleaner for sticky tile stains and grout cleaning.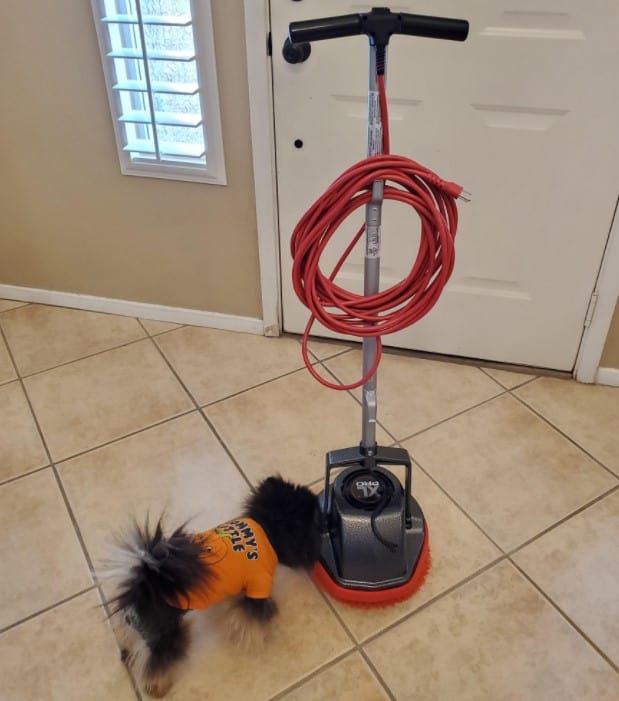 2. Power
You can have two power options for a tile and grout cleaner. Battery or Corded Electric Power.
Battery-powered cleaners are great for casual cleaning. You can carry it everywhere. However, a corded electric floor cleaner machine is better for serious cleaning.
Not all electric cleaners are good at cleaning. So, do your research and choose wisely.
3. Weight
Weight is another important factor when it comes to choosing the best machine to clean tile floors and grout.
If you get tired very easily, you might want to go for a lightweight steam cleaner. However, purchasing an industrial tile cleaner would be wise for a professional cleaning experience.
4. Cord and Hose
Electric steam cleaners or floor scrubbers come in different sizes of power cords and hoses. We recommend analyzing the overall size of your cleaning area.
You must go for something that offers a power cord and hose long enough to cover your cleaning space.
5. Cleaning Tools
Your tile scrubbing machine might be worthless if you don't have the right tool for cleaning. Luckily, there are many reputed brands that offer different cleaning tools.
Decide, whether you want to have a cleaner for hard floor, tiles, grout, carpet or anything else. And look for the necessary tools for that particular cleaning purpose.
Go for a cleaner that comes with those cleaning tools.
6. Chemical Use
This might be the most crucial part of a floor cleaning machine. A liquid cleaner is being used for better cleaning and shining. However, these liquid cleaners are mostly made of harmful chemicals.
Read the safety information carefully. If anything has a P65 warning, avoid that product if you are not an expert.
How to Use Steam Cleaner for Grout?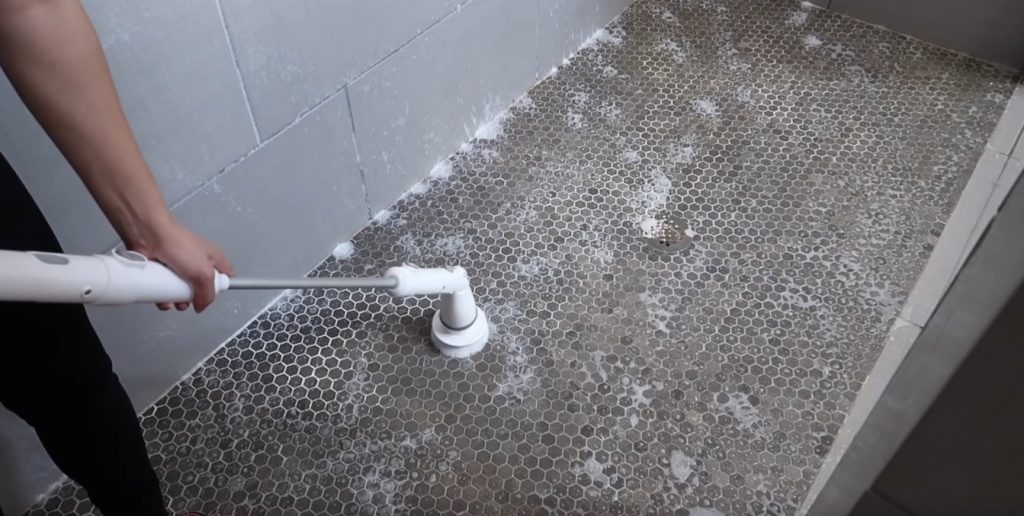 Attach a small grout-cleaning brush to the steam cleaner.
Start the cleaner and steam the grout line.
Slowly move the brush upwards and backward. Dust and dirt will come out of the surface.
Attach a microfiber cloth to the cleaning tool.
Wipe out the dirt by using a microfiber cloth.
Final Words
Hope you have already found the cleaner you are looking for. Overall, the McCulloch MC1385 Deluxe Canister Steam Cleaner is the best machine to clean tile floors and grout.
When it comes to portability and lightweight, the Tilswall is the best battery powered tile floor scrubber. And the Oreck Commercial ORB550MC is the best commercial tile and grout cleaning machine.
So, did you find this article helpful? Which part was the most interesting and beneficial according to your thoughts?
Do you want to add something? Please, feel free to comment down below. We really appreciate your valuable opinion.
Best Machine to Clean Tile Floors and Grout (FAQs)
What do professionals use to clean grout?
Any professional starts cleaning the grout with vacuuming. After that, they use a steam mop to remove any sticky stains from the floor. Steam cleaning and drying out is the final part.
How do I get my grout white again?
Scrub your floor and refresh your grout lines. Sprinkle some baking soda on the line and use a grout brush for cleaning. If you want to avoid cleaning with your hands, pick our best grout cleaning machine.
What's the best way to clean bathroom grout?
Using a stiff brush and water can solve your problem. You can also use baking soda and vinegar together for better results.
What do professionals use to clean tile grout?
They use oxygen cleaners of chemical cleaners if grout stains are deep and sticky.
Should I vacuum, steam or sweep tile floors?
We always recommend vacuuming before you sweep or wash your floor. It helps to clean any dirt, dust, and debris from the surface. Steaming and sweeping become effortless after vacuuming.
Which is better: wet or dry cleaning?
Dry cleaning is the most common form of cleaning.
Wet cleaning is a more complicated process that involves using a lot of water and chemicals, which can harm fabrics over time.
Are there any drawbacks to using steam cleaners on carpets and rugs?
Some people might be concerned about the use of steam cleaners on carpets and rugs.
However, there are a few things to consider before you decide whether or not to use a steam cleaner. One thing is that steam cleaning can remove many types of dirt and stains from carpets, making them look fresh and clean again. Another benefit is that it can kill mold spores, which will help prevent future problems with moisture. It also helps reduce allergens in the air like dust mites and pollen particles.
The only downside is that some types of carpeting may become permanently damaged if they are over-cleaned with too much heat, so you should always take care when using a steam cleaner.
Related Post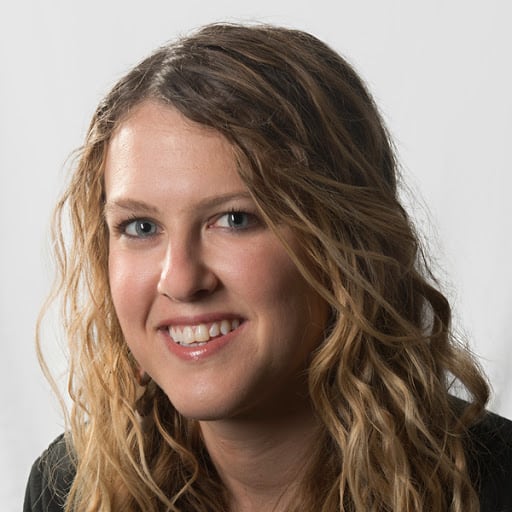 Perry is a certified professional housekeeper and cleaning specialist with over 15 years of experience. She has worked in a variety of settings, including homes, offices, and hospitals. Her focus is on providing thorough, professional cleaning that meets specific needs.