I know why you like using high pile carpets in your home. It gives you an excellent sense of warmth and luxury. You may also like the posh vibe it provides.
But one morning, you woke up and realized your pets are enjoying them too. And now those beautiful warm carpets are dirtier than your washroom. How would that feel?
Well, you don't have to go through any of these feelings if you just purchase a robot vacuum. But finding the best robot vacuum for high pile carpet might be more painful than watching those carpets get dirty, right?
Actually not! I have done that painful job for you. Here are the top ten best robot vacuum cleaner for high pile carpets you can purchase right now.
"The Nifty House earns a commission from the links below at no additional cost to you."
In A Hurry? Here Is Our Top 3 Recommended Robot Vacuum For Carpet
Top 10 Best Robot Vacuum For High Pile Carpet [Expert Reviews & Buying Guide 2023]
1. Roborock S5 Robotic Vacuum
Roborock S5 Robotic Vacuum Review
This Roborock S5 is by far the best robot vacuum for high pile carpet. No matter what you throw to her, it will suck almost everything that comes into its way. This brand is established in 2014 and leading the robot vacuum industry for a long time. 
It works like a cute little puppy who bumps into everything like a drunk baby and sucks everything that comes in its way. Let's discuss why and how it becomes our number one pick.
Mopping Attachment
Unlike the other robot vacuum, Roborock S5 has a botanically biomimetic wet mopping system. It comes with a water tank and microfiber clothing, which can help you clean spills and stains.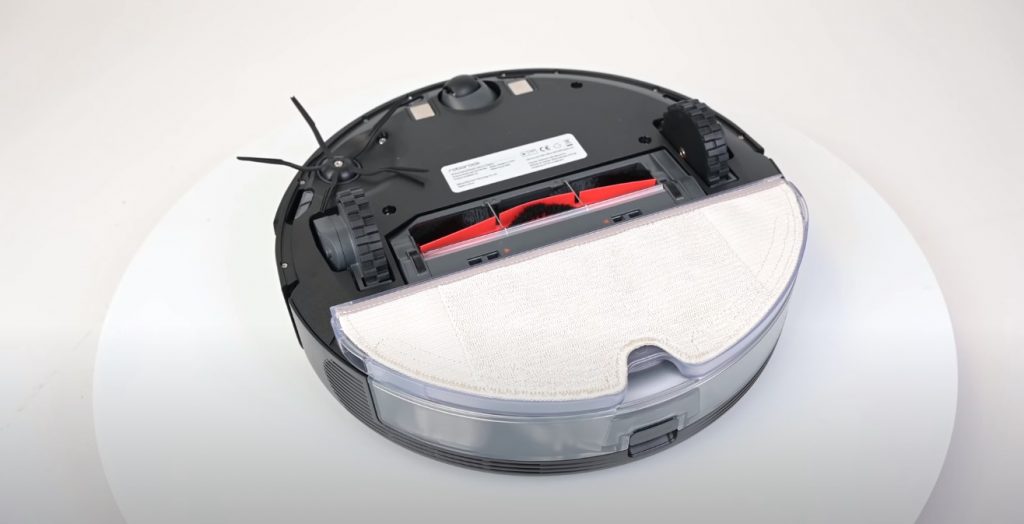 Unbelievable Suction Power
Suction power is the most crucial feature in a robot vacuum cleaner. Roborock S5 robotic vacuum comes with a 2000Pa suction power. Just to give you the context, 1500Pa is something that can pull off soybeans. 2000Pa means it can suck steel balls from your floor. 
So, dirt, dust, pet hair, and any other regular objects are pretty easy to handle for this cute little bot.
Battery Life
It comes with a 5200mAh battery that can ensure 150 minutes of nonstop cleaning. If your house is less dirty or cleaning requires less suction power, it can last even more. 
Standby and Recharge
If it needs to recharge itself in the middle of cleaning, it will automatically go to its charging base. Once the charging is complete, it can start the cleaning from the exact point it left. 
Down Sides
It's a bit costly. Though every penny is worth spending, maybe everyone couldn't afford it.
You may have to clean the bottom cliff sensors quite often unless it can fall downstairs as the sensor couldn't work in a dirty condition. Also, it can't clean corners properly due to its round shape. 
What I Like Most
Mopping System helps to clean spills and stains
Suction power capable of sucking steel balls
Standby and Recharge Facility
Multiple Cleaning Modes
Battery Efficiency
Floor Mapping
My Dislikes
High price. Not affordable for everyone
Cliff sensors need to be cleaned regularly
Can't get closer to walls for the round shape
---
2. iRobot Roomba i7 Robot Vacuum
iRobot Roomba i7 Robot Vacuum Review
If you need a robot vacuum that can dispose of the dirt itself, then this iRobot Roomba i7 is the best robot vacuum for your home. It has the automatic dirt disposal feature that comes with multiple disposal bags.
With this robot vacuum, you can forget about dirt disposal for months. AllergenLock™ can trap pollen and mold, and the automatic dirt disposal feature is here to make sure it can empty itself for 60 days. 
Smart Mapping
Roomba i7 has a vSLAM® navigation system that helps it to learn the floor layout and make a smart map on its own. Whenever it runs out of battery, it stops working and looks for the charging dock. Once the charging is done, it picks up the cleaning in the exact place wherever it left off.
With smart mapping, it knows exactly which one is your kitchen, bedroom, and dining room. So, it can clean your house exactly the way it needs. Can Roomba Go From Hardwood To Carpet? find the answer here.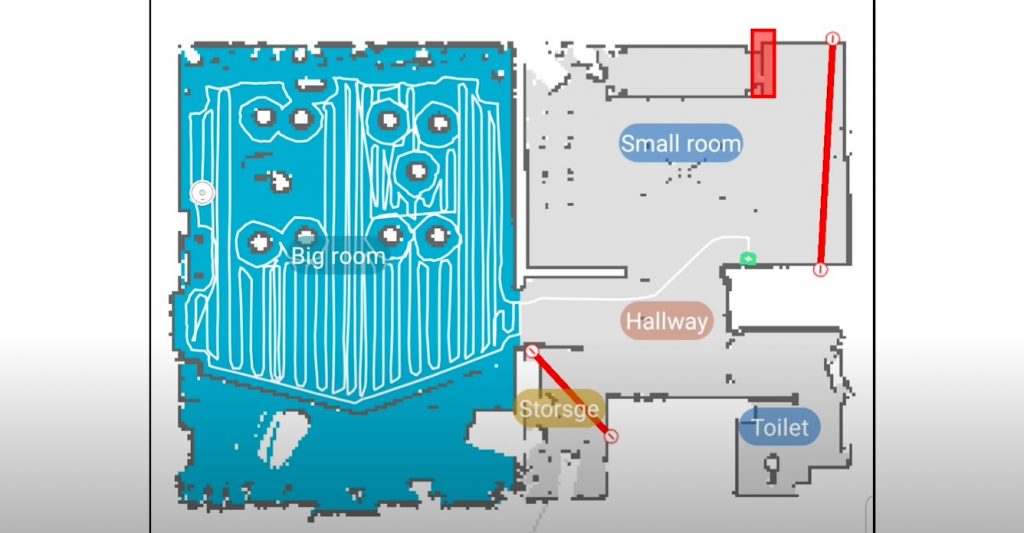 Battery Life
It has a powerful lithium-Ion battery that can go nonstop for 100 minutes in one charge. This much time is enough to cover a large house (3500Sf) without any problem. 
Less Noise
If you compare the Roomba i7 with the other robot vacuums in terms of noise reduction, I must say it wins the battle. This is much quieter than any other vacuums. You can run this even when your kids are sleeping.
Size and Filter
It fits under almost every piece of furniture in your house. Any furniture with a 3/4 inches gap underneath it can smoothly go to that gap and clean with maximum efficiency.
Also, it has a 3-stage cleaning process and ten times more suction power compared to regular robot vacuums to ensure perfect cleaning.
Down Sides
Though it's a great product, the price makes it more luxurious. There are some affordable options you can consider (except the auto disposal feature).
Also, the bumper can get stuck sometimes. Though it can be fixed, and you can get a replacement if it doesn't work.
What I Like Most
Automatic Dirt Disposal
Smart Mapping
Efficient Battery Life
3 Stage Cleaning
Fits under almost every furniture
Produce Less noise
Works for low pile and high pile carpet
My Dislikes
High Price
Multiple complaints about the bumper problem
---
3. Neato Robotics D7 Robot Vacuum
Neato Robotics D7 Review
Neato Robotics D7 is one of the best automatic vacuum for high pile carpet. If you have high pile carpets in your home that need special cleaning, this is the robot vacuum you can go for. 
Efficient Design
Most of the robot vacuum comes with a rounded shape. Unlike the other, this Neato Robotics D7 comes with a D shape slick design, which is impressive.
It can get closer to walls, reach, and clean corners in an efficient way that no other rounded shape robot can do. This design is getting so popular that other robot vacuum brands are also adopting it.
LaserSmart™ Technology
This is the best feature of Neato Robotics D7. It uses an invisible laser to see its way around the house. By using the laser, it scans and creates a map of your floor plan. You can make multiple floor plans if you want. It helps the robot move in a straight line and ensures that no area is left without cleaning. 
Also, you can create no-go lines. If it bumps into any specific (like tv cables, rugs, pet's water dish), it will change its path and go in a different direction. 
Auto Charge and Resume
Another cool feature of this robot vacuum is its recharge and resume feature. Once it creates the layout of your home, you don't have to worry about its charge.
If its battery becomes low in the middle of cleaning, it will go to the charging base. After the recharge, it will start cleaning wherever it is left.
Special Spot Cleaning
If you have any specific area in your house that needs special care, you can use its spot cleaning feature. For example, you can make a zone for your dining table, and it will clean all the extras that fall off the floor.
Down Sides
The price point! Yes, the price is slightly high if you compare it with the other similar robot vacuums. Also, you may have to change several parts after a year or two.
What I Like Most
LaserSmart™ technology
D Shape Design for Better Corner Cleaning
Wifi Connectivity
Recharge and Resume Ability
Multiple Cleaning Modes
Battery Efficiency
My Dislikes
High Price
May need parts replacement after 1/2 years
---
4. Tesvor M1 4000Pa Robot Vacuum Cleaner
Tesvor M1 4000Pa Robot Vacuum Review
If you have a medium house that needs frequent cleaning for animal hair, then Tesvor M1 Robot Vacuum is the best robot vacuum for medium pile carpet. It works on high pile carpet too. It has 4000Pa Strong Suction Power that can easily clean any kind of dirty floor.
Mapping and Navigation
The mapping system this Robot vacuum has is impressive. It has a smart mapping feature that scans the entire home and makes a grid pattern. After that, it starts cleaning the house like it's mowing the yard. It doesn't stop the cleaning unless it covers the complete area, or the battery is below 20%.
Multiple Suction Mode
It comes with multiple suction modes. The normal mode has suction power similar to other robot vacuums, which is enough for regular cleaning. However, you can have a higher suction power for any difficult task. 
Multiple Cleaning Methods
This Tesvor M1 Robot Vacuum has a night mode facility. It makes significantly less noise in this mode though the suction power is also average. Besides the normal suction, it offers you a high-performance mode, which will enable the ultimate suction power. It usually helps to do spot cleaning. 
Water Tank for Mopping
After you purchase, it also suggests an additional water tank for mopping. Having that post-purchase option is really helpful since it generally comes with high-end robot vacuums. 
Down Sides
Round shape robot vacuums are not ideal for cleaning the walls. It can't reach corners, and you may find some uncleaned areas in your home.
Sometimes, the grid pattern doesn't work properly. If the mapping is not accurate, it may clean the same spot again and again.
What I Like Most
Smart Navigation
The battery can last almost 2 hours
Multiple Suction and Cleaning Mode
Additional Water Tank for Mopping
Night Mode for Less noise
Ideal for heavy cleaning
My Dislikes
Corner Cleaning is not efficient
Grid Pattern may not work if the mapping is not accurate
---
5. Eufy RoboVac 11s
Eufy RoboVac 11s Review
Eufy RoboVac 11s is one of the best robot vacuum for thick carpet and pet hair. If you have multiple pets who frequently make your beautiful home dirty, then this Eufy RoboVac 11s is something you can go for. It has a very slim scratch-resistant design that fits under almost every piece of furniture in your house.
Better Suction Power
When it comes to cleaning your home with a robot vacuum high pile carpet, it's essential to know the suction power.
Luckily, this Eufy RoboVac 11s comes with 1300Pa Suction Power, which can easily take care of dust, pet hair, dirt, and any other small particles in your home surface.
BoostIQ™ Technology
The standard suction power of this robot vacuum gets the job done in most scenarios. But sometimes, it needs extra power to clean big or sticky particles. That's where BoostIQ technology kicks in. It enhances the regular power and ensures perfect cleaning.
Also, it has cliff sensor technology, which will prevent it from falling downstairs. 
Efficient Battery life
A robot vacuum does the cleaning on its own, so it must be battery efficient. This Eufy RoboVac 11s comes with a 2600mAh Li-ion Battery, which can clean your house for up to 100 minutes in one go. Also, it doesn't die instantly. It turns off the vacuum when the battery is low and starts looking for the doc to charge itself. Quite smart, right?
Multiple Cleaning Mode
It comes with remote control, which allows you to select which mode you want in your robot vacuum. It has Automatic mode, Edge Cleaning, Spot Cleaning, Single Room cleaning, and Manual mode. It also allows you to set the timer for how long you want it to be cleaned.
Down Sides
It doesn't work so well on black floors or carpets, but that's a common issue for every robot vacuum in the market. Sometimes, it just stops when bumped into something black. 
If your regular cleaning includes massive particles, then the suction power might not be enough. In that case, you have to rely on a different robot vacuum that has more suction power. 
Please make sure your charging dock is set up against the wall unless it can never be charged. 
What I Like Most
Scratch-resistant design
BoostIQ™ Technology
Drop-sensing technology
Better Suction Power
Remote control system
Multiple Cleaning Methods
Efficient battery life
Produce less noise
My Dislikes
Stops into black floors (sometimes)
Not ideal for heavy cleaning
---
6. iLIFE V3s Pro Robot Vacuum Cleaner
iLIFE V3s Pro Robot Review
If you are looking for something low profile, small and lite weight, then this iLIFE V3s Pro Robot Vacuum Cleaner is worth your time and money. We can also call it the best mini robot vacuum cleaner.
Size and Power
This round shape cute little toy is only 81mm in diameter. It can be roaming around your house and clean it at the same time, and you can't even notice it's here. Because of its tiny size, it can go under almost every furniture in your house.
But you can't underestimate its power just because it's small. Yes, it may not be an ideal choice for heavy cleaning. But, you can rely on it for regular stuff. It can suck pet hair, pet food, dust, dirt, or any kind of standard-size particles that comes on its way.
It can also work on any kind of hardwood floor, tile, and thick or thin rugs.
Charging and Battery Performance
It takes extra time to be charged compared to other robot vacuums. But the battery consumption is also less because of its lite weight. It can go nonstop cleaning for 90 minutes without any interruption. 
Dustbin and Remote Control
It has a 300ml dustbin, which is enough for any small house. You may do the cleaning on a regular basis. You may have to clean the dustbin very often if your pets are naughty and messy. 
Though it's a smart robot, you can control the movement with the remote. If you see any unusual cleaning pattern, you can simply press some buttons and control it. 
Down Sides
The battery is not too powerful. It takes too much time to recharge.  You may find it very annoying.  This robot vacuum cleaner works well in a small house. But it might not be the best option for heavy cleaning. 
What I Like Most
Lite Weight
Slick and Small Design
Fits under all furniture
Remote Control Facility
Ideal for Small Home
My Dislikes
Takes too much time to recharge
Not ideal for big houses
---
7. Samsung POWERbot™ R7040 Robot Vacuum
Samsung POWERbot™ R7040 Robot Vacuum Review
We all know what Samsung is capable of. If you need a reliable brand to take care of your household cleaning, then this POWERbot™ R7040 Robot Vacuum is something you can try. 
Using this highly intelligent robot is very easy. You can simply turn on your Wi-Fi and connect it to the SmartThings app, or you can use it without Wi-Fi and manually control it with the remote. 
Suction Power
It can produce up to 10w suction, which is enough for tiles, hardwood floors, or any kind of carpets in your home. The suction power is 20 times more than any conventional round shape robot vacuum. 
Smart Edge Cleaning
Conventional robot vacuums can't clean the corners properly. Unlike regular robot vacuum cleaners, it has a D shape design, which is more efficient for cleaning corners. 
Additionally, it has a very sharp rubber blade hidden under the front side. Whenever it hits an edge or a wall, the rubber blade comes out and takes care of the corner.  
Sensor and Mapping
Having maps for multiple rooms or floors is pretty hard to handle. There are not many robot vacuums that can do it efficiently. 
With the help of multiple sensors, this robot vacuum can clean many rooms without having any problem. There is a FullView Sensor that works as the onboard camera. It scans the floor and identifies all the obstacles. After that, it makes the cleaning path with the help of visionary mapping.
Other Features
It has Wi-Fi connectivity and a remote-control system. Also, you can give commands using Alexa. It also comes with washable filters, recharge and resume ability, schedule cleaning, and many more. 
Down Sides
The only thing I didn't like about this product is the battery life. After one charge, it can clean your house for one hour. Many robot vacuum cleaner brands are offering 2/3 hours of battery life. It may not be an ideal purchase if your home is too big.
What I Like Most
20x Suction power
D shape design
Smart Edge Cleaning
Wi-Fi and Remote-Control System
Smart Sensor and Mapping
Works with Alexa
Washable Filters
My Dislikes
Only 60 minutes of battery life
Not recommended for a big house
---
8. GOOVI 1600PA Robotic Vacuum Cleaner
GOOVI 1600PA Robotic Vacuum Cleaner Review
If you are looking for the best robot vacuum cleaner for your medium-pile carpet, then GOOVI 1600PA Robotic Vacuum Cleaner is one of the best options for you. It's a reliable robot vacuum cleaner that moves around your house like a cute little puppy and fits under every piece of furniture because of its low-profile design. 
1600Pa Suction
Though it can do multiple types of cleaning, pet hair and medium-pile carpets are its specialties. The suction power it has is ideal for hard floors or medium carpets.
It has a smart sensor that can customize the suction power according to the needs. When it starts cleaning carpet or pet hair, it increases the power of suction to sweep all the dirt into the bin bag.  
Minimal Design
It has an excellent circle shape design, which is 12.75 x 12.79 x 2.83 inches in dimension. It's a minimal design compared to the other conventional robot vacuums. Because of its lite weight and small shape, it can go almost anywhere in the house to do the cleaning. 
Charging and Battery Life
Despite being a tiny cute bot, it has impressive battery life. It can clean your house for two hours without any break once you fully charge it. Whenever the battery goes low, it will stop the suction and return to its charging station for a recharge. Once the charge is full, it will start cleaning again. 
Other important features
It comes with multiple cliff sensors. Once it reaches the stairs, it will stop going forward and will change its direction. Also, you can have various cleaning modes. You can change it according to your house requirements. 
The 600ml dust bin is there to store as much dirt as possible during the cleaning. Also, it doesn't make lots of noise during the cleaning session. 
Down Sides
The circle shape design is not very good for edge cleaning. You may find dirt, dust, pet hair in the corners.  After hitting a wall or corner, it can get stuck sometimes. Also, dealing with a difficult task is not something it may handle. 
What I Like Most
Enough suction power for pet hair or carpet
Lite weight small design
Drop Sensor
Impressive Battery Life
Fits under every furniture
Multiple Cleaning Options
My Dislikes
Not good at edge cleaning
Can get stuck sometimes
---
9. Coredy R650 Robot Vacuum Cleaner
Coredy R650 Robot Vacuum Cleaner Review
If you consider the price, this might be a great deal for you. Coredy R650 is one of the cheapest robot vacuum cleaner available in the market. All the feature it offers in this price range is impressive. 
Boost-Intellect Technology
This robot vacuum is built using smart technology. It can clean your hard surfaces with low suction power. But, whenever it finds a carpet on your floor, it automatically increases the power.
The movement from the hard floor to the carpet is also effortless. It offers a maximum 1600Pa energy that ensures impressive cleaning. 
Infrared and Anti Drop Sensor
It has a built-in infrared sensor that can scan any obstacles in its way. Thus, it can avoid any damage from an unwanted crash. Also, there is an anti-drop sensor that can detect low grounds to prevent falling. 
Battery and Cleaning Time
It has a built-in 2600mAh Li-ion battery that can run for two hours without taking any breaks. It also comes with a charging station that has an automatic charging function. If the battery gets low, it comes to the charging station and recharges itself. 
Down Sides
If you put this in a large area for cleaning, it might miss some space. Also, some models may have difficulties finding the charging base. The built quality might not make you happy. Some of the parts may stop working after a few months. 
What I Like Most
Boost-Intellect Technology
Infrared sensor to prevent crashes
Anti-Drop sensor to avoid falling
Batter life is impressive
Automatic Charging Facility
My Dislikes
Have issues working in a large area
Can't find the charging base sometimes
The built quality is not good
---
10. BISSELL EV675 Robot Vacuum Cleaner
BISSELL EV675 Robot Vacuum Cleaner Review
It can clean low pile carpet, area rugs, wood floors without having any problems. If you want an all-rounder robot vacuum cleaner that is good value for money, then this might be your thing. 
It can pretty much clean anything. But this is one of the best robot vacuum cleaner for low pile carpet. 
Triple Action Cleaning
It offers three different suction mode for cleaning. When it works on your tile floor or wood floor, the suction power remains regular. When it encounters pet food or anything messy, it slightly increases the suction power to clean the floor. 
When it enters a carpeted floor, it reaches maximum power and gives you a smooth cleaning experience. 
Schedule Cleaning
There is a smart feature available in this tiny robot. You can schedule the cleaning even when you are not home. You can select the day and time for cleaning and set the cleaning duration. This feature allows you to have more time working or chilling with your family. 
Down Sides
Though it works fine in a small house, it may not be the best choice if you clean large living space. If you have particular kinds of rugs, it can miss cat hair multiple times in a row. 
What I Like Most
Triple Action Cleaning
Smart sensor to avoid crashes
Cliff sensor to avoid falling down
100 minutes of battery life
Auto Charging
Ideal for low pile carpet and small house
My Dislikes
Miss cat hair in particular rugs
Challenging to clean large living space
---
Buying Guide: How to Choose the Best Robot Vacuum Cleaner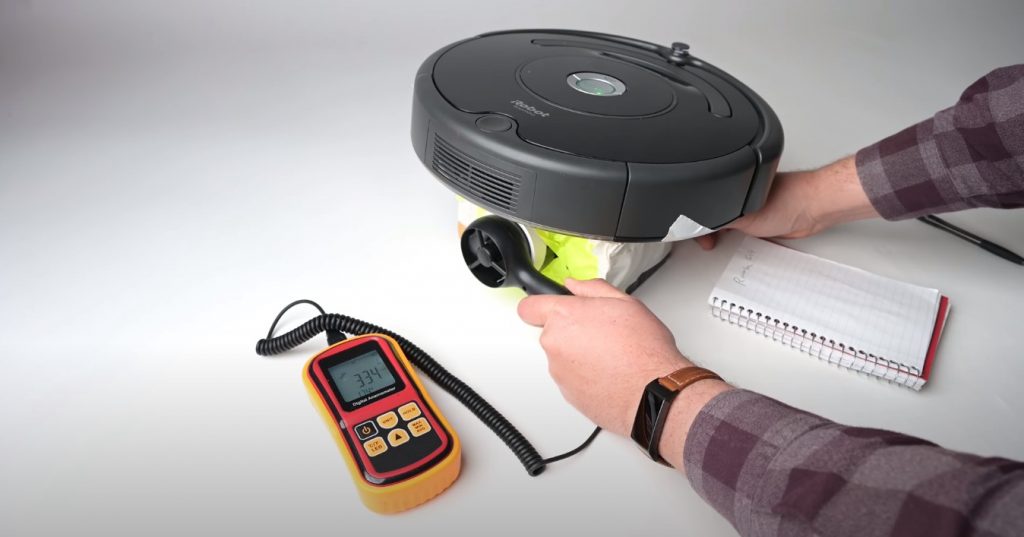 1. Surface Type
First of all, decide where are you going to use the robot vacuum cleaner?  What kind of surface is this? There are multiple types of surfaces in a house, such as hardwood floors, flat tiles, high pile carpet, low pile carpet, rugs, dining space, living room, etc. Each one of them needs a particular type of cleaning. How many of these surfaces do you have in your house?
If you have two or three types of surfaces in your home, you can go for a robot vacuum that is specialized in cleaning those types of floors. If your house has many surface options, you may have to go for an all-rounder version. 
2. Suction Power
It will never clean your house properly if the power is not enough. On the other hand, excessive suction power can quickly drain your battery.
Go for a robot vacuum that offers smart suction ability. Whenever it works on a flat floor, the suction power will remain normal. It will increase the suction speed if it hits rugs or carpets. 
3. Battery Life
Another critical aspect of a robot vacuum cleaner is the battery life. The average robot vacuum offers 60 minutes of nonstop cleaning in a single charge. However, some high-end options are available that can go up to 150 or 180 minutes long.
Robot vacuums generally have "recharge and resume" ability. But it might be annoying sometimes. Besides, some of them don't start cleaning from the exact place it left.
A small battery lifespan may work for you if your house is small and doesn't need frequent cleaning. But you need a high-performance battery life if the house is big and requires cleaning regularly. 
4. Cleaning Modes
Apart from the regular cleaning, there are some cleaning modes available in robot vacuums. For example, some of them have a quiet mode. If your baby is sleeping or you don't need any noise during the cleaning, you can activate that mode. It will make less sound while this mode is active. 
The night mode is very similar to the quiet mode. It creates a virtual map and does the cleaning when the lights are off. 
Another one is spot cleaning. Suppose you are having dinner with your family. You can enable the spot cleaning, and it will take care of all the excess food and mess that drops from the table. 
Some models offer a smart edge cleaning feature. Having multiple cleaning methods makes cleaning more efficient. 
5. Mopping Attachment
Only a few robot vacuums come with this feature, especially high-priced models. If you frequently need to clean spills and stains, you may have to go for a robot vacuum cleaner that comes with a mopping attachment and water filter. You can buy regular ones if you don't need that feature. 
6. Size and Weight
You can have all kinds of sizes when it comes to the robot vacuum.  Some of them are very lite and can go almost everywhere in the house. On the other hand, some of them are big and bulky with high-performance abilities. 
If your home is small or needs to be cleaned under the furniture, you may go for the small robot vacuums. If you have a big living space or multiple rooms to clean, you may find big and bulky options more efficient.
7. Dust Collection Capacity
The robot vacuum comes with a 300ml to 700ml dust bin size. If you are very busy and don't get time to clean the vacuum very often, you may need the big bin vacuums. Having a vacuum with a small dust bin size is also ok if you can clean it regularly. 
Robots Vs. Stick Vacuums
Robots and stick vacuums have changed drastically in recent years. If you have a small apartment, condo, or home with a limited amount of carpet, the stick vacuum cleaner can work well. In contrast, robots are useful in any size of home.
Generally, stick vacuums are less expensive than robot vacuums. Stick vacuums start under $70, while most thick-carpet robotic vacuums start well over $150.
Robots Vs. Upright Vacuums
Robot vacuums were initially designed to replace upright models entirely. For the most part, that hasn't worked out.
Upright vacuums are still more powerful than robot vacuums. It is difficult for robots to create enough suction to clean and uprights due to the amount of energy and power needed.
The robot vacuums may lack comparative power, but they are capable of helping you with the cleaning chores every day. The robot can create schedules and clean while you do other things.
However, many robots require more maintenance. It is harder to clean the brush rolls, and the bins are smaller.
Robots Vs. 2-in-1 Vacuums
In a 2-in-1 vacuum, you can switch from an upright to a handheld. Typically, it is a stick vacuum with a removable stick. There isn't much extra power, like with an upright.
Suction levels are about the same in comparison with a robot vacuum, but 2-in-1 models are more versatile. 2-in-1s are ideal for stairs, carpets, cars, and furniture. It's even safe to clean overhead.
In addition, 2-in-1s are less expensive, so they make better choices. The problem with 2-in-1s in terms of cleaning thicker carpets is that they have a lack of suction and are hard to maneuver.
High Pile Carpets: Benefits of a Robot Vacuum
A robot vacuum cleaner is a versatile machine that can be used to clean carpets, dust, and vacuum hardwood floors. The benefits of using a robot vacuum are:
They save time by eliminating the need to sweep or mop your floor.
They save energy because they only use electricity when they're actually in use and not while they're idle.
They help prevent allergens from spreading around your home.
They clean more thoroughly and quickly compared to a person.
They keep your carpet cleaner longer.
They clean a wider area of your floor.
They are environmentally friendly, as you no longer need to use toxic chemicals that may damage the environment when applied by other cleaners.
They are silent compared to conventional vacuum cleaners.
After vacuuming your carpet, the dirt left over is no longer a problem, as the dirt can harm children or leave a mess that cannot be cleaned by sweeping alone.
They take up less room because they are usually smaller than conventional vacuum cleaners.
They are simple to use, so they can be used by older people or parents who don't have a lot of time to organize their chores.
Robot vacuums are often equipped with a full set of tools for cleaning different surfaces in your home, such as hardwood floors.
Robot vacuum cleaners are fitted with sensors that can detect when they are nearing an obstacle or about to fall. This ensures they stop in time.
How Do You Maintain High Pile Carpet?
Regularly empty the robot vacuum dirt bin if it is not a self-cleaning vacuum.
If you have an allergy problem, it is recommended to change the HEPA filter every three months.
Do not use any hard brushes on thick rugs.
You can use steam cleaning at least once a month to remove the dirt and stains flawlessly.
Try to frequently use a robotic vacuum and perform a manual deep cleaning to make your carpet look new.
You can sprinkle a mixture of cloves and cinnamon to reduce the odor issue before vacuuming.
Do not apply any new cleaning methods before the proper examination.
A few habits maintain your high pile carpet for a long time, such as avoiding eating and walking with shoes on carpets, etc.
Before vacuuming just sprinkle some baking soda that will produce a perfect home aura with a fresh smell at all times.
Final Verdict
According to our research, Roborock S5 is the best robot vacuum for high pile carpet. It offers more features than any other robot vacuums available in the market. House size doesn't even matter. Roborock S5 can take care of everything.
It does the cleaning on the high pile, low pile carpet, rugs, or even flat surface. You can use it with Alexa and Google Assistant. 
I know it might exceed your budget. But trust me, you won't regret it. Roborock S5 is worth every penny. 
Best Robot Vacuum For High-Pile Carpet (FAQs)