Let's say you LOVE DIY projects. You work hard to make cool things for your satisfaction and living. However, every time you make something impressive, you make the room very messy with lots of dust.
To clean your room, you purchase the best shop vac for drywall dust. After plugging it with the power source, you turn it on to start cleaning. And BOOM! Dust cloud has covered your room, and now the mess looks more horrible. 
Suddenly you realized the shop vac you purchased is not actually the best. Quite terrifying, right? 
Well, you don't need to go through this terrifying experience if you read this article. After many hours of research, we have come up with the top 10 best shop vac for drywall dust. 
"The Nifty House earns a commission from the links below at no additional cost to you."
In A Hurry? Here Is Our Top 3 Recommended Shop Vac For Drywall Dust
Top 10 Best Shop Vac For Drywall Dust [Expert Reviews & Buying Guide 2023]
1. Bosch 9 Gallon Dust Extractor
Bosch Dust Extractor Review
Bosch VAC090AH is a great drywall dust vacuum that comes with 150 CFM of dust extraction capability. The amount of airflow is more than enough for any regular drywall shop vac to clean various kinds of dust. 
Bosch VAC090AH is not just a regular vacuum. It is a dust extraction system that works for both silica and sawdust.  Also, it has a full wet back mode. Whenever you are cutting tile or ceramic, it works as a slurry collector on your wet saw. Bosch VAC090AH is also known as one of the best vacuum for construction dust. Thus, you can use it commercially too without any hesitation.
HEPA Filter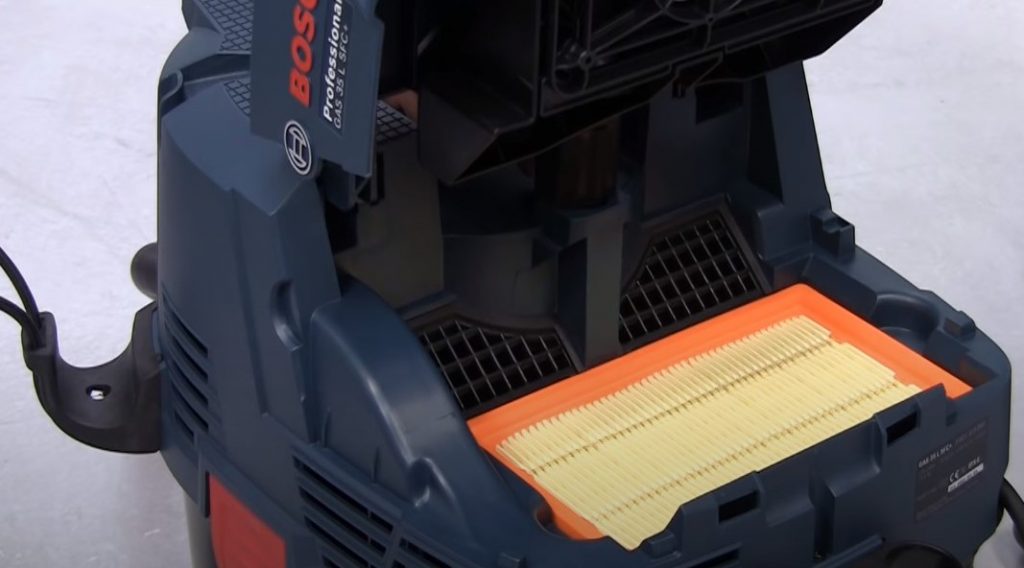 It has got a HEPA-ready filtration system on the side with one filter installed already. It catches harmful particles and prevents them from going back into the air. However, it does not come with an additional filter, so you have to buy it separately.
Fleece Bags
Bosch offers high-quality fleece bags with this product. Those bags fit inside the dust vacuum and collect dust whenever you activate the power. We like this product because it has an excellent pulling option on the end and small paper sliding up over the dust ports. So, when you're emptying the bag, you don't have to have dust spraying everywhere. 
Power Tool Activation
Apart from the standard power options, there is an additional setting called power tool activation and an outlet on the front side. You can plug your power tool into this outlet. It will run as long as the device doesn't exceed the 7.5amp limit. 
Once you run the tool, the vacuum is going to start automatically. It is beneficial, especially if you are into drilling, cutting, or grinding work. You don't have to turn on and off the vacuum every time you start working.
Filter Clean up
Typically as we vacuum, the suction goes down before the bag is full. That's because the dust clocks the filter. So Bosch came up with this neat method inside this vacuum that cleans off that filter every 15 seconds to prevent dust accumulation so that you can get that constant airflow.
Weight and Portability
Unlike the other drywall vac, this Bosch VAC090AH dust extractor is very lite. The weight is only 28 pounds. Maybe that is the reason why people call it the best small wet dry vac. Also, the 10-foot hose and 14-foot cord makes the vacuum very portable. You can cover a large area without having any issues.
Down Sides
Sometimes, the auto-cleaning feature doesn't work while drilling. You may have to stop the suction for a while. Plus, this is a pretty expensive premium product.
---
2. CRAFTSMAN CMXEVBE17595 Shop Vacuum
CRAFTSMAN Shop Vacuum Review
CRAFTSMAN CMXEVBE17595 is one of the best shop vac for drywall dust collection. It comes with proper drywall dust vacuum attachments such as a car nozzle and utility nozzle. They have a wet nozzle too. The hose diameter is 2-1/2 inch with additional Dual-Flex. It helps you to resist the kinks and crushing of the vacuum hose.
Heavy-Duty
The 6.5 horsepower is more than enough for any cleaning around your house or workshop. You can clean your car, garage, home dust, carpet floor, and even the shop floor.  Just use the right nozzle with the vacuum, and you are good to go. 
Oversized Drain
There is a significant in-built drain at the bottom of this vacuum. Once you are done cleaning, you can simply open the drain port and dispose of all the liquids and dust. This is very convenient for anyone who continually moves around the work and does a lot of cleaning stuff.
Built-In Blower Port
There is a blowing port at the rear side of the main body. You can use this blower to do outdoor cleaning, such as leaves in your garden, grass clipping, etc. 
Down Sides
The main issue with this vacuum cleaner is the spare parts. CRAFTSMAN vacuums are good. But finding their spare parts in the aftermarket is very painful. If any of your parts are broken, you may have to suffer a lot.
---
3. Milwaukee 0880-20 Cordless Wet/Dry Vacuum
Milwaukee M18 0880-20 Review
If you need something compact, lightweight, truly portable, and battery-powered vacuum, this M18™ Cordless Wet/Dry Vacuum is exactly what you are looking for. It comes with a 6-foot hose, which is very flexible. Also, they have a crevice tool and utility nozzle along with the HEPA filter. This is the best cordless shop vac for drywall dust, hardwood floor, and carpet.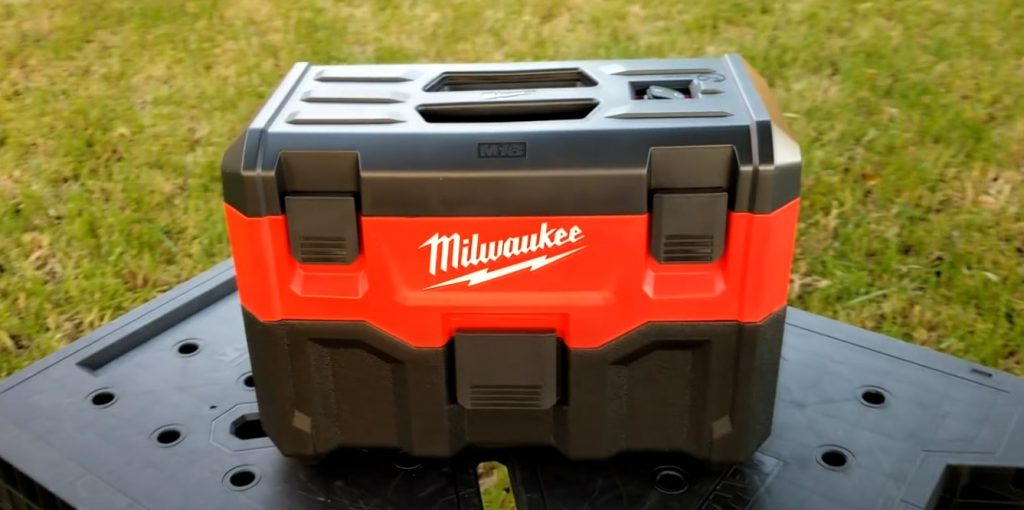 Vacuum Power
Before we jump into the suction, please keep in mind that this is a battery-powered vacuum, which will not produce a lot of power. But enough for a cordless vacuum.
With the 45 CFM, you can clean almost everything that comes on your floor. M18™ REDLITHIUM™ 9.0 battery can produce nonstop suction power for 30 minutes. There is enough space behind the battery to install a bigger battery to have a better cleaning duration.
Toolbox Design
Just take a look at the photo. The package is very minimal and designed with a proper classy look. You can put all the accessories inside the box and carry it anywhere you want. This Milwaukee M18 0880-20 vacuum is designed precisely for that purpose.
HEPA Filter and Cleaning Options
They have HEPA certification with many vacuuming features. With the help of this HEPA filter shop vacuum, you can even clean smaller particles that can't be seen with the naked eye. 
Also, you can do any kind of dry/wet cleaning on the hard floor and carpets. If you need a small workshop vacuum that you can carry to the house and do cleaning stuff, then you may think about it.
Down Sides
If you have a large space and clean your shop or home very often, then 30 minutes of run time may not be enough for you. Also, you may need an additional long hose for doing long-range cleaning.
---
4. Festool 574938 CT 48 E HEPA Dust Extractor Review
Festool Dust Extractor Review – Best HEPA Vacuum for Drywall Dust
There are many brands available in the vacuum industry. Festool is one of those brands that are setting industry standards with their product quality and service. And this Festool 574938 CT 48 E HEPA Dust Extractor is one of their best shop vac for dust collection.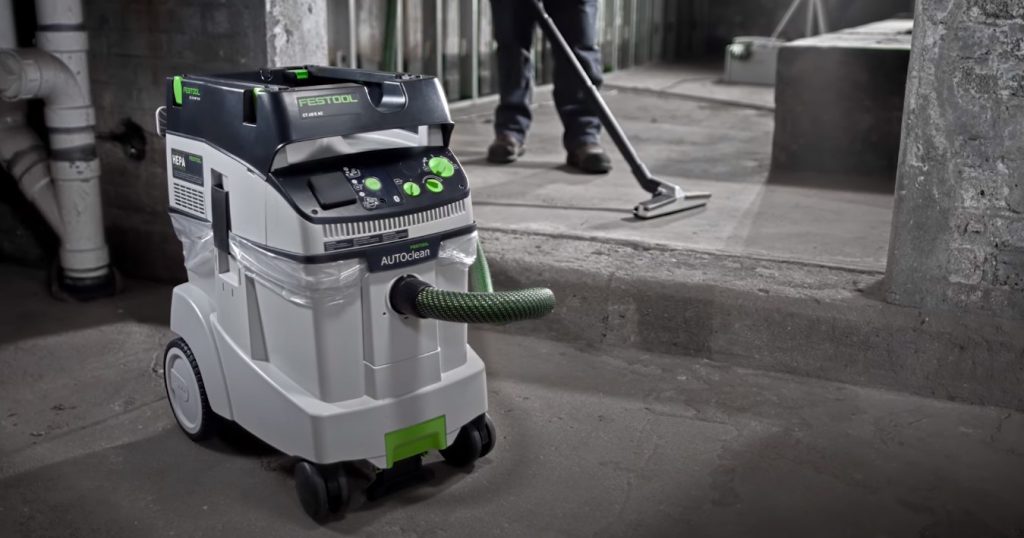 Powerful Suction
It can produce enough power for any kind of cleaning. The powerful turbine constantly regulates enough power throughout the cleaning session so that you can have the best cleaning experience.
Certified HEPA Filter
It is a shop vac with HEPA filter certification. It can block any particles 0.3 microns in size. That means it has the ability to filter those particles that you can't even see. This is an excellent vacuum for intensive cleaning.
Cleaning and Optimization
No matter what you think about this sucking monster. Dry, wet, hard, soft anything. This beast can cover almost every aspect of a vacuum. It comes with a self-cleaning bag inside that can automatically clean inside. So, you just have to worry about dumping the mess. 
The suction hose is very smooth, and the sys-dock is also optimized very well. It comes with t-loc availability and a cord holder to easily connect Systainer with the mobile dust extractor. If you want to clean sand, add Festool Planex Drywall Sander to get perfect results.
Down Sides
Despite being a premium product, it is not an ideal choice for post-construction cleaning. You may use it to clean wood dust, but hard concrete particles may damage the product.  Besides, it is very pricey. Everyone can not afford it.
---
5. FEIN Turbo I Vacuum Cleaner
FEIN Turbo I Vacuum Cleaner Review
FEIN has been leading the vacuum industry for a very long time. They are very known for their high-quality vacuum filters. This is one of the best shop vacuums available in the market. It has a disposable bag for wet pickups and a drywall dust collector. 
Turbo Vacuum
With the perfect 151 CFM power, you can work with any kind of messy situation. It has many features. The shop vac drywall dust collector is one of the main specialties among others. This is one of the best vacuum for drywall dust. It does even have a HEPA filter.
Wet and Dry Auto Cleaning
You have an auto-cleaning feature with any FEIN Turbo vacuum. Once you plug the vacuum with an electric cord, all you have to do is just turn on the auto switch. The vacuum will start cleaning immediately. Once you stop cleaning, the vacuum will stop after a certain time.
It can also offer you compact cleaning for both wet and dry floors. Whether you want to clean your mess or just want to extract dust from your workshop, this is a perfect cleaning machine. 
Quiet Suction
It is the most amazing feature of this FEIN Turbo vacuum cleaner. The maximum sound it produces is only 66 dB. This is very low if you compare it with another vacuum that comes in the same price range. Amazing, right?
Down Sides
During my research, I find it quite surprising that many users had issues with a product warranty. So, be careful before you make a decision.
---
6. Vacmaster VQ607SFD Wet/Dry Shop Vacuum
Vacmaster Wet Dry Vacuum Review
The Vacmaster VQ607SFD is a multi-purpose vacuum cleaner. But it is mainly designed for home cleaning. The reason we have added this product to this list is its price. If you are a house owner or a small shop owner who cannot spend too much money on the vacuum right now, then this might be something you can take a look at. This is a vacuum for drywall dust and wet carpets as well.
Stainless Steel Design
Despite being a regular vacuum cleaner, it is impressive to see the build quality of this product. They used stainless steel in the body. Though the rest of the vacuum is plastic, it feels very premium and high quality. Safe to say that Vacmaster didn't compromise anything.
Filters and Drain Port
There are not many vacuums that offer a HEPA filter. But this one does. You can also use a sawdust filter or drywall dust bags (have to purchase) in this vacuum. 
There is a significant drain port available on the bottom side that can make your disposal very easy.
Multiple Cleaning Options
This vacuum can be used for various purposes. With industrial work, you can also vacuum your car, home floor, water spills, dirt, and many other things.  It can work as your drywall vacuum as well as a dust vacuum cleaner. An additional blowing facility is also available.
Down Sides
There is a drawback to the stainless design. You have to be very careful about disposal. If you keep your wet pick-ups inside the vacuum for a long period, it can be rusted very soon.
Even with proper care, there is a chance your vacuum can be rusted within a few years. So, keep that in mind.
---
7. DeWALT DXV09P 9 GALLON WET/DRY VACUUM
DeWALT 9 gallon Poly Wet/Dry Vac Review
DeWALT DXV09P is one of the best vacuums you can use for your shop cleanup. It has a fine dust vacuum facility with a cartridge filter. You can easily clean up any dry debris or wet particles with this vacuum.
Three problems one solution
It doesn't matter what kind of cleaning you do every day such as, wet floor/carpet, fine dust, sawdust, etc. It can almost take care of everything. It can even work as a blower.
Multi-Layer Filter
There are multiple layers of filters available in the vacuum. The shop vac dust filter blocks all the drywall dust, and the wet filter prevents any wet particles from entering the water tank. The cartridge filter works as a fine dust blocker and stops them from going back to the air. You can wash and reuse this filter multiple times.
Easy to Carry
The vacuum comes with two extension wands, a crevice nozzle, a floor nozzle, a utility nozzle, a disposable bag, and many more. It is not easy to carry all the attachments and tools everywhere. That is why DeWalt has given an accessory bag that is attached to the vacuum. Now you can easily carry all the necessary tools with you.
Down Sides
The hose size is a bit different than other vacuums available in the market. If you have an existing hose that you wish to use with this vacuum, there is a high chance it won't work.
---
8. WORKSHOP WS1600VA Wet Dry Vacuum Cleaner
WORKSHOP Wet Dry Vac 16 Gallon Review
I know it's very hard to deal with underpowered vacuums.  If you are desperately looking for a highly powerful one, then look no further. This is one of the best wet/dry vac in terms of suction power. 
It comes with two extension wands, one crevice nozzle, one normal floor nozzle, and a wet nozzle.  It has a switch that looks like a rocket launcher. Every time you turn on the vac, you may feel like launching nukes at Kim Jong-un.
Hose, Cord, and Dual Lock
It comes with a 2-1/2-inch wide and 7 feet long hose that is enough for your regular cleaning. A twenty feet long cord will allow you to move the vacuum comfortably so that you can cover a large area. Also, there is a dual-flex lock system in the hose. You can attach any side of the hose to the vacuum and can bend it 180 degrees without having any problems.
Multiple Filter
There are three filters available inside the vacuum, and every single one of them comes with a quick-lock system. All you have to do is take out the top, remove the filter, put in the new filter, and boom! You are ready to go. It has a Wet filter, Dry filter, and Dry filter for fine particles. Yes! It can also pull out all the fine particles and clean the air inside your shop. There are many experts who consider it as the best shop vac for fine dust.
Power and Gallon Size
It has a 16-gallon drum that is the largest one available in the market. Also, it is meant to power. Massive 6.5 horsepower produces a remarkable suction capacity that can pull out almost any kind of dust.
Easy Cleaning Process
Once you are done with suction, it is effortless to clean all the mess. There is a drain port to take care of the wet particles. You can also use it as a blower.
Down Sides
The only issue I have encountered with this beast is the noise. Yes, it produces lots of noise, maybe more than 70 decibels. You may not like it if you are very concerned about sound pollution.
But, it is pretty obvious if you consider the power it produces. You may go for a less powerful dust vacuum if you need something less noisy.
---
9. TACKLIFE Wet/Dry Shop Vacuum Cleaner
TACKLIFE Wet/Dry Shop Vacuum Cleaner Review
This is one of the most affordable shop vac you can find. There is also a discount going on with the product. This is the main reason I have added this product to our list. Please check it out. 
Vacuum Power
You may wonder how much power it can produce, right? Well, the motor is made of copper that can produce up to 5.5 horsepower at its peak. Quiet enough for your home or shop floor cleaning.
Cleaning Modes
There are many cleaning options available in this vacuum. It doesn't matter how much dirt you have on the floor. It can easily clean glass scrap, scrap paper, wood dust, or any kind of solid waste. You dropped fruit juice or drink on the floor? No problem. It will take care of any liquid you have spilled. Also, there is a blowing facility available in the machine.
Multi-Function Accessories
By using the accessories, you can clean your dog's hair, laptop, or any kind of dry waste. Also, they are compatible with your garage, garden, car, kitchen corners, and many more.
Easy Filter Maintenance
It has washable filters for wet cleaning. You don't need to change that frequently. Just wash and reuse, simple! 
Also, there is a paper bag for easy dry waste disposal. Once it gets dirty, you can buy another one from them. Check this: Double Layer Paper Dust Bags
Down Sides
Sometimes, they mess up the delivery. You may not find all the attachments you have seen in the details. If that happens to you, inform them.
---
10. STANLEY Wet/Dry Vacuum SL18115
STANLEY Wet/Dry Vacuum Review
STANLEY is a great wet/dry vacuum that comes with an affordable price tag. If you have a tight budget and are looking for something that can suck water as well as typical dust, then this compact power machine is the ideal choice.
Build Quality
STANLEY is very famous for its quality design. The body of this vacuum is made of stainless steel, and the overall design is water-resistant. They offer three different tools for cleaning, and the standard package comes with wheels. You will also have disposable bags, so you don't have to worry about cleaning the vacuum now and then.
Works as Vacuum and Blower
With powerful suction, it also has a blowing facility. There is a blower port that can produce as much power as the vacuum. If you need constant blowing power to clean your shop or house, then this might be the perfect choice for you.
Multiple Cleaning Tools
You need different attachments and tools to clean in different situations. This STANLEY Wet/Dry Vacuum comes with three different attachments that will make your cleaning very easy. When you want to wash something wet, you can use the wet cleaning attachment. Another one works as a drywall dust collector and big particles. You can do indoor and outdoor cleaning with this vacuum.
Weight and Portability
It is by far the most lightweight shop vac available in the market. The weight is only 14 pounds, which is crazy! They also offer wheels and handles that help you to carry the vacuum around your workplace.
Down Sides
Despite being very lightweight, you may not have the full potential of portability. A 5-foot hose moves very hard, and the cord is only 10 feet long. It might not be the best choice if you continuously move while vacuuming.  Also, it does not come with a HEPA filter.
---
Buying Guide: How to Choose the Best Drywall Dust Vacuum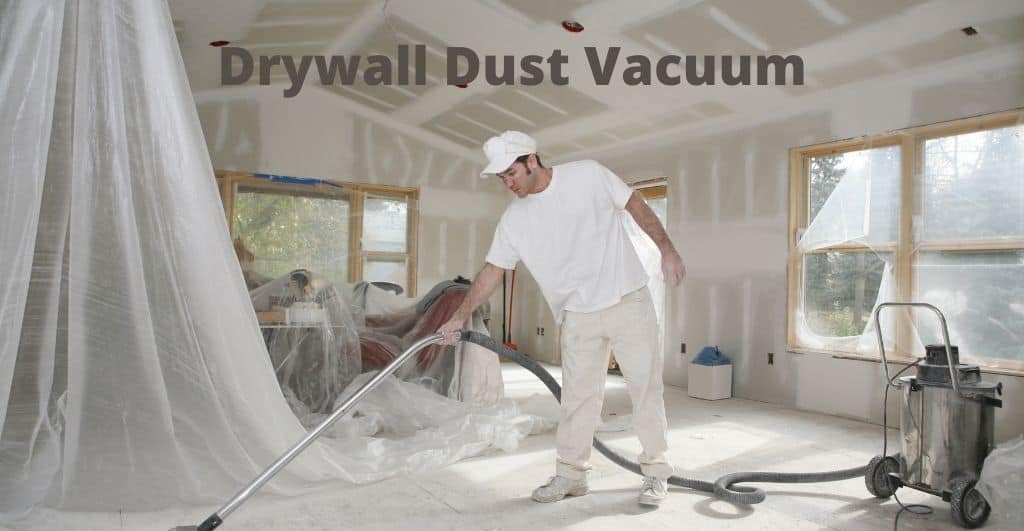 Buying a technical product is not very easy. You should do in-depth research before making any purchase decision. Unless a wrong vacuum can suck all your money just like the way it sucks dust.
If you don't want to waste your hard-earned money, there are a few things to consider when finding the best shop vac for drywall dust vacuum. 
1. Suction Power
It is the first thing you should check in a drywall dust vacuum. Ask yourself, how much power do you need? What kind of cleaning are you going to do with the vacuum? If you are going to do heavy cleaning, then go for something with high CFM and Horsepower.
2. Suction Noise
If you will use the vacuum in a house or your workshop is near a residential area, then go for something that produces less noise. However, most vacuum with low noise has less suction power. So keep that in mind.
3. Power Source
Do you want a vacuum that runs on electricity? Or you prefer a battery-powered monster? The electrical vacuum generally has a long hose and cord with better suction power. On the other hand, battery-powered vacuums are less powerful with better portability.
4. Wet/Dry Functionality
Most drywall dust vacuum comes with dual functionality. You can clean dry waste as well as wet pickups. Please check whether the wet particle filters are washable or not. 
If your work involves lots of wet cleaning, you may consider a dual-functionality vacuum. For more info read: Will drywall dust ruin my vacuum?
5. HEPA Filter
HEPA means high-efficiency particulate air. It is an essential feature for a drywall dust vacuum. 
It cleans all those particles that you can't even see, for example, pet dander, pollen, dust mites, etc. HEPA traps them inside the filter so that no allergens can go back into the air.
6. Weight and Portability
If your vacuum needs to cover a large cleaning area, then go for something lightweight. However, heavyweight vacuums are more powerful and prominent for constant cleaning.
7. Drain Port
Not all drywall dust vacuum has a drain port for wet pickups. If you clean a large area and are looking for something with a comfortable wet garbage dumping facility, check this feature.
8. Blower Port
Some people love to have a blower port on their vacuum cleaners. Luckily, many vacuum brands are including this feature in their product. You can clean your pet's hair, garden, laptop, and many other things with a blower. If you feel like this is something interesting to you, don't hesitate to look for this feature.
9. Warranty
With the increasing opportunity, cheap and low-quality products are spoiling the market. It is better to know who is providing quality service. Go for a brand that is well-known and has a good reputation in the vacuum industry. Purchase from authorized shops and sellers. Purchase something with a high warranty period. Check their after-sales services.
How To Clean Construction Dust From Wood Floors?
There are a few steps you can take to clean construction dust from wood floors. The most important thing is to use a dust mask and protective clothing when working with construction dust. You should also keep a clean area open so that you can drop dust into it as you work. The five steps are as follows:
Remove any objects or furniture that may be blocking the floor from being cleaned.
Use a vacuum cleaner with a HEPA filter to clean the dust and dirt that has been collected on the floor.
Use a wet mop or bucket to wet the surface and sprinkle borax over the area. Then use a broom, mop, or vacuum cleaner to sweep or vacuum the wetted surface.
Wipe down the area with damp cloths to remove any remaining dust and dirt.
Finish by airing out the area for a few minutes to remove any residual odor or dust.
What Size Shop Vac for Dust Collection?
When choosing the right shop vac for dust collection, you'll want to consider a few factors, including the size of your space, the number of occupants, and the type of dust you'll be collecting. Here are some general tips to get you started:
1. Estimate your space – Before buying a shop vac, first estimate the space it will need to reach. This will help you choose a model that is appropriate for your needs.
2. Choose a model with a dust collector – A dust collector is essential if you collect large amounts of dust. Models with larger collection capacities are usually more expensive, but they are also likely to be more powerful and efficient.
3. Consider your needs – Once you've determined the size of your space and the type of dust you will be collecting, decide which features are most important to you. For example, some models come with filters and HEPA filters that help to reduce the amount of allergens and other allergens in the air.
Final Verdict
According to our research, Bosch VAC090AH Dust Extractor is the best shop vac for drywall dust vacuum for you. It's a well-known brand that provides quality service with many features. 
But you can also go for Milwaukee M18 0880-20 Cordless Wet/Dry Vacuum if you need a battery-powered shop vac. And Festool 574938 CT 48 E HEPA Dust Extractor for industry-grade extensive work. The choice is yours. 
I hope this article was worth your reading. If you want to know more about the drywall dust vacuum, check out other articles on our website. 
Related Content