Maintaining a healthy body with minimal effort and time is everyone's dream, right? Exercise at home or build a garage gym can help you reach your fitness goals.
During warm summer days, it looks like someone has opened a sweat tap on our body and it streams like a river. At the same time, you will focus more on breathing than exercising. This will lead to dehydration and demotivation. That's why maintaining a suitable environment is essential.
With this article, you will make your workout time more enjoyable as well as keep your place cool. Check out the best fan for garage gym in recent times.
"The Nifty House earns a commission from the links below at no additional cost to you."
In A Hurry? Here Is Our Top 3 Recommended Fan For Garage Gym
Top 10 Best Fan For Garage Gym [Expert Reviews & Buying Guide 2023]
1. Xpower Fc-300 Professional Grade Air Circulator
XPOWER FC-300 Review
XPOWER FC-300 Professional Grade Air Circulator is a powerful and one of the best commercial gym fans you can rely on for your stores, workshop, warehouses, commercial, residential, or other uses.
The energy efficiency is maximizable with a rated 2100 CFM, while it only needs 1.5 amps of power. This fan comes with a 4-speed operating switch. You can set the time for 3 hours; after the time meets its limit, the fan will be automatically off.
Lightweight and Flexible Built
This XPOWER FC-300 fan is built with an advanced high torque motor that provides ample airflow to give entire room air circulation continuously. It's very lightweight and flexible so moving it from one place to another is easy.
Powerful Motor
This XPOWER FC-300 comes with a powerful motor that is responsible for its high speed. This motor has ¼ horsepower, and high torque moves fan blades incredibly fast. This motor isn't going to be damaged for years so you can use it without any worry.
Powerful 2100 CFM Air Circulate for Full Coverage
This fan can have a spiral grill and deep-pitched blade design to produce airflow upwards of 170 feet. This fan can circulate air at 2100CFM. It can distribute airflow at 360-degree; so that it will cover the whole room. With a lot of features, it is the best fan for garage workouts.
---
2. Air King 9312 Multi-Mount Wall Fan
Air King Fan Review
Air King 9312 is the best wall mounted fan for garage gym. It is a black color powder-coated multi-mount wall fan. You can hang this fan on the ceiling, wall, or anywhere you want. This fan is a space-saving home appliance. It's built on steel material, and the dimension is 15x12x15 inches. This is a pull chain type wall fan. Check out this article about the best wall mount fan for home gym for more information about wall-mounted fans.
Well-Constructed
This fan is uniquely built as a space-saving wall mounting fan. It has a sturdy motor and is constructed with steel. The motor takes 3 different amps and produces watts like 64, 56, and 49. The blade guard comes with a superb powder-coated finish.
Superfast Speed
It comes with a three-speed setting, such as 56, 49, and 42 speeds. It has one open motor, one phase, a permanent sleeve bearing, and a split capacitor. It moves at three speeds, the high speed of 1360, the medium speed of 1170, and the lowest at 1010cfm. It is the best garage fan for the money without any doubt.
Beautifully Designed
It's one of the best fans among commercial gym fans. This industrial-grade wall fan is specially designed for circulating air in various settings. It's a perfect fit for loading docks, health clubs, warehouses, garage gyms, or other industrial spaces.
All Certifications
This fan meets all safety standards, such as AMCA 230-99, ARRA, ETL, and OSHA. With this fan, you will get a 1-year warranty card. Before purchasing, don't forget to check all the certifications.
---
3. Dyson Cool AM07 Air Multiplier Tower Fan
Dyson AM07 Tower Fan Review
Dyson is a renowned brand, and its fans are worth quality. This cool air multiplier tower fan is available in two colors Black and Nickel. It's designed to circulate smooth stream air. It is built with SD material, and you will get a remote with it to control.
Latest Technology
Dyson fans have the latest patented air multiplier technology that creates a powerful air stream. And this fan circulates uninterrupted airflow without any fast-spinning blades. Dyson technology ensures the safety of children and pets. This best bladeless ceiling fan with light post will help you enjoy quiet, smooth airflow.
Easy to Clean
This Dyson fan is one of the best tower fan for gym garage. Dyson fans spinning blades aren't removable, so you won't have to remove the cleaning edges. And it has anti-dirt features that maintain clean air for a long time.
Modern Timer System
This high-quality fan also has a sleep timer. You can turn on or off the program with the preset interval range. You can set the time from 15 minutes to nine hours.
Electronic Remote
With this fan, you will get a remote for controlling the ten airflow settings. The remote is magnetized on the machine elegantly.
---
4. Lasko 20" High-Velocity Fan
Lasko 20-Inch-High-Velocity Fan Review
Lasko is one of the best garage gym fans. It is a durable and reliable good-performing floor fan. You can easily convert Lasko high-velocity fan from floor to wall as it has a QuickMount system.
It's a perfect fit for a garage, home, attic, shop, or in-between anywhere you want. This fan allows you to enjoy breezy air flowing up to down or throughout the entire room.
This fan needs to be handled manually. To handle it perfectly, you will get one manual instruction; just follow that, assemble your fan, and get fresh air to breathe.
Sturdy Steel Body Built
This 20-inch high-velocity fan is constructed with all high-quality materials. It comes with a strong motor and metal blades. Its motor performs really well for a long time, and due to its metal spinning blades, you will get fresh air that cools you down. The other fan parts are built with tubular steel which is mostly known for its lasting quality.
3 different Speed for Convenient Use
This silver color fan comes with three powerful speed settings. You can set the speed from high to medium or lower as per your need. With its fastest speed and fresh airflows, it can easily cover large areas.
Convertible and Portable
This fan is easy to convert from floor to wall mount fan as it comes with a stand and clips. The fan stand and the metal cage make this fan super strong. It also includes a bracket that helps in converting the fan into a quick-mount fan.
Incredible Rubber Pads
With this Quick Mount stand, you will get rubber pads that will help set the fan anywhere you want. If you need a perfect home gym fans that perfectly fits anywhere in your home, this one is a good choice. Those looking for the best ceiling fan for home gym will find this article helpful.
---
5. STANLEY High-Velocity Blower Fan
Stanley High-Velocity Blower Fan Review
STANLEY 655704 is a high-velocity blower fan packed with great features to help you at the worksite, garage gym, etc. This fan provides a cooling breeze exactly where you want (from the ceiling to the floor).
This fan comes with high-quality technology with powerful performance. It has two outlets, a grounded plug, and a circuit breaker for safety and convenience. You can say this one is a perfect workout fan that easily fits anywhere in your home or garage gym.
Velocity Speed
It may look small, but it doesn't mean its speed is lower. This is a compact fan that can give you breezy airflows at three-speed mode. Set the speed as per your need and enjoy its blow air. It's another best fan for garage gym/home/office/warehouse.
Wide Angles Airflow
This is the best benefit of this fan; it allows you to take the air directly where you want. It features wide rotate angles, so you can aim at the ceiling floor or anywhere you like.
Versatile Blower Air Circulator
STANLEY comes with a versatile blower air circulator. Its high-velocity power lets you enjoy the cool and fresh air on hot summer days, and in need, you can use it as ventilation or as a dryer machine for wet areas. One more thing is, it may survive accidental falls due to its lightweight, compact design.
Ready to Use
It's all settled in the packet; unpack it and plug the cable into the electric output. And it's ready to provide you with breezy air. See how easy it is! If you are searching for a cooling garage gym fan, this one is worth consideration.
---
6. Rowenta VU5550 Turbo Silence Oscillating Fan
Rowenta Turbo Silence Fan Review
Rowenta VU5550 fan comes in a beautiful bronze color. It's a classical plastic material stand fan, and the dimension is 18x18x54 inches. It's a remote-control type fan. You can control the speed increasing smoothly with the remote it comes with. So, it is one of the best fan for garage gym. With this fan, you will get intense breezy airs at immediate sensation in the whole area.
Superfast Speed
This fan provides strong airflow of 2436 Cu.Ft/min upwards. For optimum comfort, this fan comes with four-speed settings. You can set the airflow speed at three high to medium speeds and the Turbo Boost.
Electronic Remote
With this fan, you will get one electronic remote. Thanks to Rowenta for giving such an amazing remote for free with this fan. This controllable remote takes little effort in managing the speed.
Extremely Silent
This fan is built as a silent oscillating fan. At night the sounds rank at 40 to 57 Decibel. This sound is fit for a library atmosphere. See how silently this sensation circulates fresh and cooling air. You won't face any problems at night due to its sound. So, enjoy the breezy air without the worry of loud sound.
Others Useful Features
This 16-inch stand fan is adjustable. You can place this quiet garage fan anywhere and enjoy multidirectional air flows. It circulates air at the Turbo boost, supports automatic oscillation and orientation. It has five exclusive blades that help the fan to circulate fresh air.
---
7. Vornado 660 Large Whole Room Air Circulator Fan
Vornado Whole Room Air Circulator Review
The Vornado 660 has a glossy and matte finishing with sleek lines. This air circulator is designed to blow warm air in winter and keep the entire space cold in summer.
Unique Vortex Technology
It is built with the signature vortex technology of Vornado. This technology is so enriched that it can exchange the air between two adjusted rooms. The company promised to encompass airflow in an entire room.
So, if you are searching for an exercise room fan or home gym fans, this one would be the best fan for garage gym.
High Performance
Vornado 660 will give you a whirlwind experience. This air circulator is uniquely designed to airflow around a room to keep it cool. It has deep pitch blades, grills, and aerodynamic components that circulate fresh air from one corner to another corner of the room up to 100 feet.
Compact Design
The vornado whole room air circulator quietly into the room. It is based on sturdy and has durable plastic and rubber knobs on the bottom. It features a chrome glide bar that is smoothly adjusted with the fan slides. The fan is adjustable at any position you want. The grill blades of this fan are removable so cleaning the interior of the fan is very easy.
Speed Control by Button
This fan comes with four-speed buttons, and the switch is easy to locate in the deep dark. This fan allows you to enjoy four-speed air from it. After using this fan, if you face any problem regarding the speed or anything else, the company will provide quality customer service.
Affordable Price
Vornado is a well-reputed company, and its price is worth its quality. This fan comes with a contemporary design and quality artistry. It's the most reasonable fan in this category, with a five-year warranty. So, we can say it's another best fan for garage gym.
---
8. Portacool Cyclone 130
Portacool Cyclone 130 Reviews
Portacool cyclone 130 is an air cooler that is a perfect exercise room fan to cool down your garage, patio, or hobby area. This one comes from the brand LLC, the industry leader for more than 20 years, in delivering evaporating cooling media and evaporative cooling units. This cooler is black, weighs only 100 pounds, and dimension is 25x 29×38 inches.
16 Gallons Water Tank with Powerful Air Blow
It especially counts for your comfort. This powerful centrifugal fan can bear 16 gallons of water in its tank. Also, it can produce two convenient speeds. This evaporative cooler delivers much quieter activity than larger fans. It can generate airflow around 37 miles per hour, and this is enough to cool down up to 700 square feet.
3000 CFM Airflow
Its current ratio of amps is 5.6, and the power rating is 120 volts. This cooler can save your outdoor spaces from heat; its airflow rate is 3,000 CFM. With this evaporative cooler, you will get a 1-year manufacturer warranty.
Other Features
This cooler comes with Dual water filter options, Adjustable louvers, and a Water control valve. This fan allows careful air circulation exactly where you need it.
---
9. 30-Inch Industrial Pedestal Fan
Industrial Pedestal Fan Review
Max air industrial pedestal fan is a heavy-duty black stand fan. It's one of the best large fans for gyms. It's a 30 inches yoke fan with a powder-coated finish that allows the fan to spread air at 360 degrees. This uniquely designed fan is suitable for commercial, industrial, and agricultural use.
You can use this stand fan at large spaces like workshops, factories, large barns, greenhouses, and other indoor ambiances. It's a great economical cooling solution.
Well Built
This fan is constructed with all metal materials, so it has excellent durability and a longer lifespan than the regular fan. Make your large space more relaxed and comfortable by using this metal-based fan.
Easy to Assemble
This fan is straightforward to assemble; you won't have to use any professional tools; only household tools are enough for its assembly. You can place the head of this fan in 90-degree tilting. If needed, you can adjust the height of this stand fan.
Other Useful Features
This industrial pedestal fan is energized with a 3-speed warmth-protected motor for comfort use. It is controllable with a pull chain control system. From spot cooling to the entire room, air circulation is possible with this fan.
Its grilles are OSHA compliant and have a wide pedestal base for safety inactivity. You can convert this fan into a wall mount by using a wall bracket that you will get with this fan.
---
10. Lasko Portable Electric 42″ Oscillating Tower Fan
Lasko Tower Fan Reviews
This Lasko 42 in. electronic tower fan with remote control is one of the best tower fan for gym. It comes with a wood grain color face and a grey color body. This sleek design fan fits so smoothly in little space where no pedestal and box fan can work. So, you can enjoy fresh air without sacrificing style and comfort.
Enjoy Fresh Air
This Lasko tower fan is so powerful that it can blow air across the entire room. If you face a central air problem and your window AC isn't enough, this fan can work out for you. It will deliver moving air around your whole apartment and will make you feel fresh and cooler.
Breezy Air Quietly
This tower fan can create powerful breezy air on height settings, and still, you can hear the TV at an average volume.
Timer
You will get an auto shut-off timer of 0.5 to 7.5 hours with this fan. You will get one remote for your comfortable use; you can change the hours by lying on the bed.
Space Saver
You can easily beat the heat by using this monster Lasko portable electric 42″ oscillating tower fan on your gym. It is a perfect size fan to aim for the high bed. This vertical fan is super space-saving. You can place it in tiny places like in the kitchen, dorm, living room, camper, and RV. This tower fan is effortless to assemble and handle.
---
Buying Guide: Best Fan For Garage Gym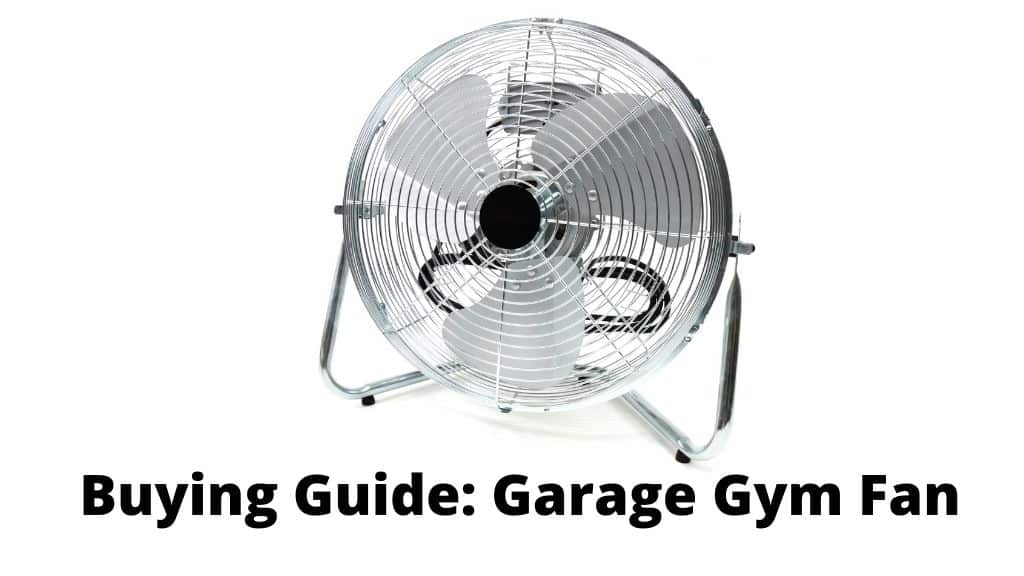 Choosing a garage gym fan is not rocket science. But picking the best fan for a garage gym, can be tricky. In that case, you should focus on what it offers and what's your requirements are.
Generally, the garage gym fan is a sturdy build with lots of features. It doesn't mean all garage fans will be the best match for you. You have to consider some essential things like its Airflow Speed, Fan type, Timer, Flexibility, Space Saving Ability, etc.
To make the right decisions in a simple manner, let's discuss all those things for you; I hope it will help you to pick the best fan for your garage gym.
After the discussion, I will recommend one best fan according to my experience and research that will worth your investment.
1. What Is CFM? Is It Makes any Difference in Airflow?
Usually, the air circulation rate is measured by a metric called cubic-feet-per-minute or CFM. The Higher CFM the fan will have, the cooler your garage gym will be.
When your fan has higher CFM, it will easily cover a vast area. Most of the users admitted that a higher CFM is perfect for the garage gym. But bear in mind that high CFM fans make some audible noise.
Before purchasing an air cooler, first, you should consider the airflow rate. And this is the thing that most of us do not notice.
Don't worry; all aren't some. If you want a fan that doesn't make a sound, you can choose one between Stanley High-Velocity Blower Fan OR Dyson Cool AM07 Air Multiplier Tower Fan. These garage gym fans will make your space perfectly cool with its fresh air without any noise.
2. Try to Figure Out What Type of Fan Actually You Need
There are many types of fans. I have talked about Ground Floor Fan, Wall Fan, Quick Mount Fan, Floor Wall converting Fan, Tower Fan, and Pedestal Fan. Select one according to your own preference. Below I am deep dive into fan classification so that it will be easier to choose from.
If you need to cover the ground, then you can choose Xpower Fc-300 Professional Grade Air Circulator.
If you want to cover all aspects of your garage gym, then Wall Fan; Air King 9312 Multi-Mount Wall Fan, is the best one.
If you want a converting fan, then Lasko 20" High-Velocity Fan can be a good choice.
You could take Dyson Cool AM07 Air Multiplier Tower Fan if you preferred a multipurpose tower fan.
Rowenta VU5550 Turbo Silence Oscillating Fan is considered one of the best stand fans.
3. Do You Need Timer Facilities or Not?
The timer feature is only available in high-quality fans. There is no doubt that it's a time and effort-saving feature. After you can select your desired timeframe and it will last till that scheduled time. If you forget to turn it off, still, no worries, it will be turned off automatically at the specified time.
This feature is a luxurious feature, not so necessary if you use a fan only at the gym. But it is essential for home use. So, if your actual requirement matches a garage fan without a timer feature, it's not wise to cut off the name from the final consideration list. You can pick a no-timer garage gym fan without any worry.
4. Is it Easy to Store and Flexible?
An easy storage facility is essential for every garage gym or home workout fan. Because your gym will have various tools and accessories all around, in that case, a portable fan can reduce the chance of creating a mess. Flexibility is also important. It will allow you to change its direction and set a perfect position according to your location.
When your fan is easy to store and has flexibility, you can design your gym beautifully.
5. Does Your Fan Ensure Standard Safety Features?
As we know, electronic products need attention. You can't neglect this type of product. So, checking the safety features should be the first priority when purchasing electronic products. And the easy way to check the safety features is – to see the tags by OSHA, CETL, and ETL; if these tags are available and the products are tested and passed, then be sure the fan is secure enough to use.
6. Warranty
It is necessary to maintain a little extra safety all the time. Because unexpected issues can cause problems to your electronic products at any time. Generally, it occurs during the shipping period. You can make sure your products come in good condition. When you get a warranty with the products, companies are responsible for delivering a product with no issues. The warranty also ensures quality customer service and free repair at a certain time.
How Do I Keep My Garage Gym Dry And Combat Moisture?
Step 1: Controlling the environment
Make sure the garage is sealed and properly ventilated. Make sure to seal doors, outlets, switches, light fixtures, and attic access points. Caulk switch and outlet plates, door frames, etc. Wrap garage doors and entry doors in weather stripping.
Related Post: How To Keep Garage Gym Cool
Step 2: Maintain a comfortable temperature
This step can be pretty costly. When the garage door is open, and it is not too hot, you can use a large Vornado fan to circulate the air. You may consider an in-room dehumidifier for around $200, but it should be emptied regularly.
When working out with the door closed or when it's too hot, use a window air conditioner/heater or, a ductless mini-split. You can fit in a mini-split for about $700, and you don't need a window or attic space. You can heat, cool, and dehumidify with them.
Final Verdict
This article presents the best fan for garage gym. You can use any fan on my list in your home, office, or bed. I have discussed their significant advantages, cons, and other important factors with you. I like to recommend Xpower Fc-300 Professional Grade Air Circulator from my list. You could call it a monster garage gym fan.
You can easily fit it in your garage gym. Space-saving and durable, this steel-built fan is built to last. The air is delivered at 2100 CFM with a 360-degree multidirectional flow. With 1-year Manufacturer's warranty, it is also TL / CETL safety certified.
Garage Gym Fan (FAQs)
Related Post