It's a winter evening and you are chilling with your family.
You did everything you had to do to stay warm. But guess what! None of your family members have cracked up the coziness of the winter. Why? Because the room heater you have is not producing enough heat to make everyone feel comfortable.
Would you believe me if I tell you something? It won't happen again if you just read this article carefully.
We have done intensive research and found some of the best indoor electric heaters for large rooms.
"The Nifty House earns a commission from the links below at no additional cost to you."
In A Hurry? Here Is Our Top 3 Recommended Indoor Electric Heaters For Large Rooms
Top 10 Best Indoor Electric Heaters For Large Rooms [Expert Reviews & Buying Guide 2023]
1. Duraflame 3d Infrared Electric Fireplace Stove
Duraflame 3d Infrared Electric Fireplace Stove Review
If you are looking for a large room heater with a real flame effect then this Duraflame 3d infrared electric fireplace stove is the best indoor electric heaters for large rooms. It comes with powerful 3D flame technology that looks like a campfire.
You can adjust the flame level and give it five different colors which is exciting! But that is not the only reason we put this heater in our number one position. Let's take a look.
Heating Power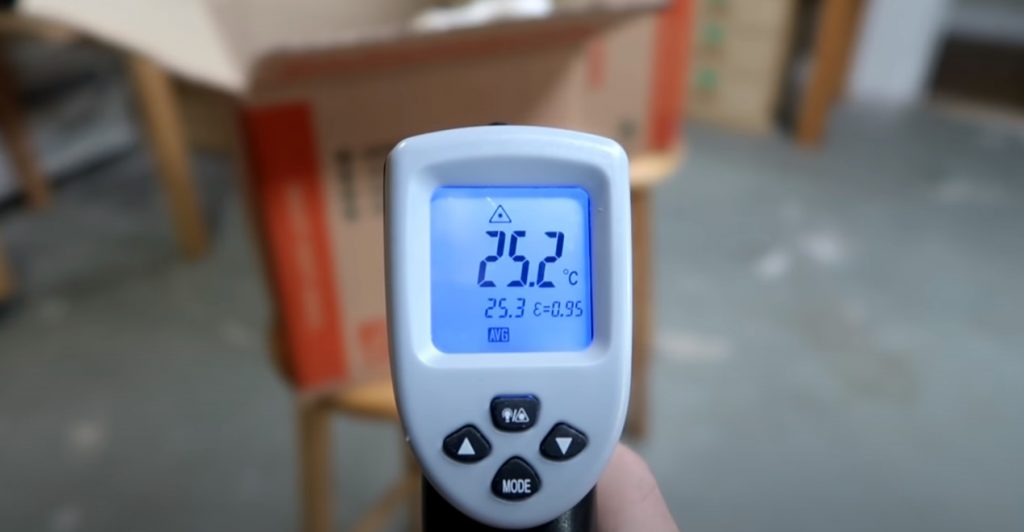 Any indoor electric heater for a large room is useless unless it has enough heating power. This Duraflame 3d infrared electric fireplace stove is one of the best large room heaters that can produce 5200 BTU (British Thermal Unit). This is more than enough to cover a large living space.
Also, the additional zone heating feature gives you the ability to heat a particular area like a bedroom, office space, etc.
Infrared Technology
It uses the infrared heating method which is similar to the sun. You may feel like standing in front of the sun's rays. But it doesn't dry out the humidity in the air which is very good for skin and breathing. That is why we call it one of the best infrared heaters for home
Overheat Protection
It's a large room heater that has a heat sensor to prevent overheat issues. Anytime the heater gets overheated the sensor turns it off immediately.
Also, there is a digital thermostat in the heater. You can set the room temperature by using the button panel or remote control. With all the facilities combined, I must say this is the best heater for large room
Down Sides
Duraflame added some sound effects to make the flame more realistic. However, some users say it's not realistic as a campfire.
Also, the return window ends after 30 days, and customer support after 60 days. Though you can claim your warranty by emailing them. But that might be painful.
---
2. Dr Space Heater
Dr Space Heater Review
Do you prefer compact portable space heaters? In that case, Dr space heater is the perfect heating monster you are looking for. This is one of the best indoor electric heaters for large rooms.
However, there are more features to make you impressed. Let's discuss them one by one.
Powerful Heating for Large Room
You may find it surprising, but this Dr space heater can produce 1500W worth of heating power which is equivalent to our number 1 product.
It doesn't matter whether you want to use it in your office or home. This is the best space heater that can produce more than enough heat to cover a large space.
Quiet Operation
Despite being a powerful room heater, it produces minimal noise. The seven-inch air blower sounds like someone is whispering in your ears. I can assure you it won't wake up your baby or disturb your sleep.
Safety Features
The Dr space heater has lots of safety features. It has tip-over protection for your baby and pets. You don't have to face any unwanted situations if they touch or tip-over the heater.
Also, there are electric thermostats to prevent overheating. It will turn off the heater as soon as it measures unusual heating activity. Additionally, you can set a 12-hour programmable timer to decide when you want to turn it off.
Portability
With the 24 pounds portable unit, it offers amazing rolling wheels that make the heater more portable. You just have to roll it over other rooms, turn the heat on and enjoy the coziness of winter.
Down Sides
There are no major issues with this room heater. However, you may encounter a front circuit issue if the unit is faulty. Though the warranty covers it.
And, if you have a problematic outlet you may have to experience a meltdown. So, check the outlet before you plug it in.
---
3. TURBRO Suburbs TS25 Electric Infrared Heater
TURBRO Suburbs TS25 Electric Infrared Heater Review
This TURBRO Suburbs TS25 Electric Infrared Heater is very similar to our number one Duraflame 3D Electric Fireplace. The main reason we put this on our list is it comes in two different sizes and doesn't have the wood cracking sound.
You can pick the 23-inch variation for a significantly lower price. However, the 25-inch version is the ideal heater for the big room.
If you need a heater without a cracking sound then this is the best electric heater for large room. Here are the benefits you can get:
Toasty Heating with Instant Warmth
This TURBRO Suburbs TS25 can produce 4,777 BTU/1400-watt heat output. You can set a temperature from 62°F to 82°F and it will start warming up the whole area.
Do you know what is the most amazing part? Once the room reaches your preset temperature, the thermostat will stop the heater immediately. And will automatically start heating again if the temperature gets lower. 
Realistic Flame Effect
With a mixture of red and orange LED lights, the TURBRO Suburbs TS25 provides energy-efficient flame effects. You can adjust it with remote control and enjoy the dancing flame even when you don't need the heater.
Safe To Touch
All the heating components are placed beneath the heater. So, the body always remains cool with minimal temperature. If you have kids and pets, you don't need to worry about them. Touching the heater will not cause them any harm.
It's CSA certified in North America.
Very Quiet
That is the beauty of a quality infrared heater. It produces 37 dBA noise which is equivalent to a library environment. I can assure you the sound is not noticeable even when you are sleeping.
Down Sides
It doesn't come with a realistic wood-cracking sound. If you are a fan of that feature, you may have to go for the number one heater on our list.
And the packaging of this TURBRO Suburbs TS25 is bad sometimes. They will surely assist you with broken or missing items, but that can be painful.
---
4. Touchstone Recessed Electric Fireplace
Touchstone Recessed Electric Fireplace Review
Looking for an indoor electric heater to decorate your flat wall? If so, this Touchstone recessed electric fireplace is one of the best electric heaters you can go for. It comes with a front-facing heating element and an easy installation process.
The slick design adds a cozy touch to your bedroom, office, or living room. All you have to do is follow the installation process and you have a great firework experience. Let's find out what else is there.
Built-in Timer
This indoor electric heater comes with many configurations that you may find interesting. One of them is a Built-in timer.  You can set an alarm between 30 minutes and 7.5 hours when the heater should be turned off automatically.
It helps especially when you want to sleep in peace and don't want your room to be overheated.
Heat and Brightness Settings
Touchstone recessed electric fireplace comes with two heating options. The low heat option will burn less electricity by maintaining the standard temperature in moderate cold. And the high heat mode is more effective in extreme cold situations.
The brightness of the flame is adjustable. There are five colors for the flame and you can also increase or decrease the flame level. Do you know what is more interesting? You can even use the flame without the heat. Who doesn't want an elegant ambiance?
Better Alternative
If you compare the cost with a custom wood fireplace and gas fireplace then this might be the most cost-effective option. It does even have a remote control. Why spend more money when you have a better alternative?
Down Sides
Some of the consumers have experienced grinding noise because of faulty flame motors. Though you can contact Touchstone store and they will replace it.
It can only cover 300/400Sqf, which might be a bummer for someone. Not an ideal choice if you are looking for a large room heater.
Also, the price is super high. And there is an additional cost to set up the place where you want to fit this.
---
5. Serenelife Air Conditioner
Serenelife Air Conditioner Review
Not interested in a traditional room heater? How about a portable Air-Conditioner with a dehumidifier? With 9000+ BTU and 4-in-1 AC units, this Serenelife air conditioner can work as one of the best electric heaters in your office, house, kitchen, or bedroom.
With unlimited features and configurations, it is capable of making your space hot and cool at the same time. Let's discuss the key features of this room heater.
Four Operation Modes
This is basically an AC unit. But there are four different modes like Cooling, heating, dehumidifier, and fan. It doesn't matter whether it's hot or cold outside. You can use this unit in any season.
Dehumidifier for Better Environment
Serenelife air conditioner has a built-in dehumidifier to reduce the humidity level in the air. It uses a semi-dry cloth to purify dust mites and mold so that the environment around you becomes more healthy and clean.
Portability
This air-conditioner is very lightweight and portable. By using the rolling wheels, you can move this device from one room to another. If the cold is not extreme, this is the best portable heater for large rooms up to 350 Sq Ft.
Down Sides
There are cooling features with healing power. You may not find it very useful If you already have an air conditioner in your home. Also, it can cover only 350 Sq ft area. So, might not be a great choice if you need a heater for extremely cold weather or a large living space.
And because of the air-forced cooling system, it makes a lot of sounds. You may not want to run this heater before going to sleep.
---
6. Air Choice Space Heater
Air Choice Space Heater Review
Having more than one heating method would be amazing, right? This Air Choice space heater has three different heating methods that can heat your room in various ways.
With its lightweight and portability, this is the best space heater for large room. Here are some more details about this amazing heater.
Large Area Coverage with Quick Heat
If you run the Air Choice infrared heater with full capacity, it can heat up a large area in a short time. However, it comes with three different modes.
The 750W model will warm up small and medium rooms to maintain natural temperature. On the other hand, the ECO mode will turn on and off the heater once the temperature reaches a certain level. It helps you to save the electricity bill.
Timer and Remote Control
There is a 12-hour timer option in this heater. You can turn it on and set the time whenever you want it to turn off automatically. This feature is very helpful while sleeping.
Also, it does offer a remote with an LED display. You can control it from your couch and bed while watching tv or reading books.
Portability
The weight of this Air Choice space heater is only 11 pounds. And the design is very compact and convenient. You can easily carry the heating unit from your living room to your bedroom. I must say this is the best portable space heater we have ever come across.
Tip-Over and Overheat Protection
There is no way it can be overheated. You can set the exact temperature you want for the room. Once it reaches your expected temp, the adjustable thermostat will turn off the heat.
Also, it has tip-over protection. So, you don't have to encounter any accidents if your pets or kids tip over it.
Down Sides
Though it claims to reach the 95℉-temperature benchmark, you may see only 86℉ in a real-life scenario which is still enough for the ideal heating
Also, the noise is more noticeable if you use it in a small room.
---
7. Delonghi Electric Heater
Delonghi Electric Heater Review
How about a room heater with a stylish design that can be mounted on walls and placed on the floor at the same time? This is one of the best wall-mounted electric heater for large room that has all these attributes.
Let's find out more.
Customized Heating Methods
There are multiple heating methods you can find in this heater. With the maximum heat mode, it can easily warm up a 400 Sq. ft large room. However, there is an ECO mode to produce slow heat.
It prevents overheating and saves your electricity bills. I have to admit this is the most energy-efficient space heater for a large room
Works for Frozen Pipes
All the pipes get frozen in the winter. I must say this is quite painful. Using a space heater is the best thing you can do in that situation.
You can use this Delonghi heater for frozen pipes. It works as a portable space heater for the frozen pipes and the thermal cutoff and anti-freezing settings prevent the pipes from being frozen.
Portability
This Delonghi electric heater is only 15 pounds which is amazing. You don't need an additional heater for different rooms. Just take this into your bedroom and enjoy the cozy warm heat all night long.
Down Sides
It can only heat 300/400 Sq. Ft area. So, might not be ideal for a large home. And the LED Display is so bright that it can affect your sleep at night. Make sure the heater display is opposite to your eye side.
Also, some of the users have experienced HT (High Temperature) warnings after using it for several months. Though, the customer support might replace the heater if you face that.
---
8. Duraflame Tower Heater
Duraflame Tower Heater Review
Do you prefer an infrared heater with vintage looks? If so, I suggest you not miss this hot monster. This is one of the best indoor electric heaters for large rooms that has a 1000 Sq ft heating capacity and vintage wood design.
The design is quite slick and gives an antique vibe. Let me tell you this is the best tower heater available in the market right now.
Wanna know more about this? Please continue the reading!
Zone Heating to Save Cost
You don't use all the rooms in your house or office at the same time. So, heating them all would be a waste of money and electricity.
The zone heating feature helps you to heat the exact area you want. It uses electric heat and stops the airflow from going in different directions.
Health and Safety Features
They have used fire-prevention technology to make the plug safer. A built-in thermometer always checks the plug heat and shuts off immediately if it ever gets overheated.
And there is a safety switch for tip-over. So, it won't be an issue if your kids or pets kick this heater and play with it.
The infrared heating technology helps to keep the natural humidity so that you don't feel dry. This is good for your skin and health.
Portability
Though it's a 22-pound room heater, you can easily move it from one room to another. However, I would really prefer to have some rolling wheels or handlebars. That would make the portability more convenient.
Down Sides
Some of the consumers said it has some blower issues. The fan blowing air might feel a little bit cold. Also, it makes some noise when you turn on the fan. And sometimes the smell is bad.
---
9. Lifesmart 8 Element Infrared Heater
Lifesmart 8 Element Infrared Heater Review
Do you need the best infrared heater for large room? With portability? In that case, I can assure you the lifesmart 8 element infrared heater is exactly what you need right now. It can draw 1400W power and produce enough heat to warm up a big space.
Also, there are rolling wheels to move this heater from one room to another. So you don't have to buy multiple heaters for different rooms. This is the best portable infrared heater for covering a large area.
What else does it offer? Let's find out!
Three Heating Options
It comes with three different heating options. You can use the ECO mode when you want to warm a small room. Trust me! It will save your electricity bill by half. However, using the 750W or 1500W max mode will be effective for large area coverage.
Overheat Safety Switch
This lifesmart 8 element infrared heater has a digital thermostat that works as the overheat safety switch. If your room is heated enough, it will stop or reduce the heating power so that you don't feel toasty and uncomfortable.
And the dual timer allows you to set the time when you want to stop the heater automatically.
Down Sides
The rolling wheels on this heater just work fine. However, you may find it difficult to move it through the carpet.
Also, their customer care takes lots of time to respond. Claiming your warranty might be a painful and time-consuming experience for you. But there is a high chance you may not have to go through this.
---
10. Heat Storm Infrared Heater
Heat Storm Infrared Heater Review
Looking for a budget-friendly most efficient electric heater for a home that you can control from your phone? This Heat Storm Infrared Heater is the best cheap heater you can go for right now. Trust me! This is a compact beast for heating.
Just mount it to the wall and you can easily warm up a medium-size room with this.
Wifi Connectivity
Unlike the other conventional heaters, Heat Storm Infrared Heater comes with WiFi facility. All you have to do is turn on the wifi, install the app and control the heater from your phone. Pretty smart move by Heat Storm I must say.
Powerful Heating
Despite being a small wall mount heater, it has a heat-producing capacity that can cover a medium room.  You may not find it very useful for large living spaces, but it will work on small or medium homes just fine.
Built-in Thermostats
Not all electric heaters come with built-in thermostats. But this one does! You don't have to worry about overheating with this. Whenever the thermostat detects any unusual heating, it will shut down the heater immediately.
In addition, this Heat Storm Infrared Heater is ETL Safety certified. All the safety precautions are taken care of by the manufacturer.
Down Sides
Heat Storm provides a user manual and the instruction to mount the heater into the wall. However, it might be complex for some people. And the heating area coverage is only 300 Sq Ft. You may not like it if you have a big house.
---
Buying Guide: Best Indoor Electric Heaters for Large Rooms
We are thriving in the ocean of technology. There are hundreds of heaters available in the market. And finding out the best heater for large room is not that easy.
Here are some major things you can consider before choosing the best indoor electric heaters for large rooms.
1. Heating Power
If you need an electric heater for large rooms, you must check the heating power it can produce. If the wattage is 1500W and the heater can produce more than 5200 BTU then there is a possibility it can work as your space heater for a large room.
2. Overheat protection
Excessive heat can cause catastrophic damage. Look for overheat protection like a digital thermostat. It will shut down the heater before the heat can catch fire.
3. Safety Certification
Only a few heaters come with safety certification. There are many reputed laboratories that provide those certificates. Make sure your electric heater has one of these.
4. Controls
There are mainly three types of controls you can have in a room heater. Remote, Mobile App (with WiFi), and onboard buttons. Though most of the electric heaters come with remote control, you can also have a heater with WiFi connectivity if that fits your convenience.
5. Portability
Weight always affects the portability of the heater. If you frequently need to move your heater then choose something with rolling wheels or lightweight. Unless having a heater with a wall mount facility might be perfect.
6.Noise Production
When a heater makes a sound in a quiet house, it feels like a turbo rocket engine. I know it's annoying! It may affect your sleep or your baby may not be comfortable with it. So, make sure you check the noise level before making the purchase.
7. Humidity in the Air
There are multiple types of heaters you can find in the store. Among them, Infrared heaters are generally good at keeping the natural humidity in the air. If you are concerned about that, purchase a heater with infrared technology.
Common Types of Space Heaters
There are mainly three types of space heaters:
Radiant Heater
Convection Heater
Combination Heater
Here's a table comparing the differences between radiant, convection, and combination heaters:
Benefits of Using an Electric Space Heater
There are many reasons we find the electric space heater more useful.
First of all, it is energy efficient. It doesn't waste electricity and keeps the room warm for a long period of time.
Most of the electric heaters come in one piece. So, the installation process is very simple.
Electric Space heaters are mainly portable and lightweight. You can mount them on the wall or more from one room to another.
Multiple heating methods to save electricity bills.
Amazing safety features like tip-over protection and overheat protection. Also, there are safety certifications.
Safety Tips for Indoor Electric Heaters
We have reviewed the top 10 best indoor electric heaters for large rooms and most of them have important safety features and precautions. However, you may need to know a few things about safety. Better to be safe than sorry, right?
Check your electric outlet before you plug in the heater. If the outlet doesn't have the recommended volt you may experience burning smells, socket meltdown, and many more issues.
Never put anything directly in front of the heater for a long time (such as clothes, towels). It can burn the object and put you in serious trouble.
 Be careful about babies and pets. Playing too much with the heater can injure themselves.
Related Post: Do Electric Heaters Burn Oxygen?
Electric vs Gas Heater – Pros and Cons
Electric heaters are a popular choice for those looking for a sustainable and eco-friendly way to stay warm this winter season. But what are the pros and cons of electric heaters? Let's explore the benefits and drawbacks of each type.
There are many reasons why electric heaters are the best choice for heating your home this winter. They work just as well as a gas heater and they may cost you less money than a gas-powered one. If you live in an apartment, it's easier to get approval for an electric heater because the wiring is not something you need to worry about.
Some homeowners might think that a gas fireplace is a more efficient way to heat a home in the winter. However, a gas fireplace is a lot less efficient than an electric heater. Gas fireplaces also use up your natural gas supply much quicker and require more modern safety measures due to the combustible materials used in fireplace design. In addition, gas fireplaces aren't as customizable as electric options when it comes to the design of the space they will be heating.
Final Verdict
According to our research, we found that the Duraflame 3d infrared electric fireplace stove is one of the best indoor electric heaters for large rooms. You can also go for Dr space heater if you prefer a compact, small, and portable design.
Even if you are not interested in any of these, just follow our buying guide before you make any purchase decision. Trust me! It will help you a lot.
Hope we could guide you through the process and make this heater-finding journey easy for you. End of the day we all want to stay warm. We wish you a cozy and toasty warm winter ahead.
Indoor Electric Heaters For Large Rooms (FAQs)
Related Post