Did you know that the iconic Case compact tractors, the workhorses of modern agriculture and construction, are the progeny of a legacy that revolutionized the industry? It's a little-known fact that the Case brand, a staple on farms and job sites worldwide, has a lineage dating back to the 19th century. But who crafts these powerful machines today?
In this blog post, we're going to unveil the manufacturer behind Case compact tractors, a name synonymous with durability and performance. As the industry faces a surge in demand for compact efficiency, we promise to guide you through the fascinating journey of these tractors, from their illustrious past to the innovative present. Stay tuned as we dig into the roots and reveal the maker of these legendary tractors.
Keynote: Who Makes Case Compact Tractors?
Case IH, owned by CNH Industrial, is a leading manufacturer of farm equipment including compact tractors. Key models like Farmall, Maxxum & Farmall C range from 35-141HP. Made in the USA & Europe, Case compact tractors feature strong diesel engines from Fiat Powertrain & ZF transmissions. Known for reliability, safety & comfort, popular with landscapers & hobby farmers.
Overview of Case IH and Their Compact Tractor Models
Brief History of Case IH:
1842: Jerome Increase Case founded the Racine Threshing Machine Works in Racine, Wisconsin.
1869: Introduction of the first portable steam engine, leading to the era of steam-powered farm equipment.
1911: The Old Abe eagle becomes the official trademark, a symbol of quality and longevity.
1985: Case merges with International Harvester, forming Case IH, and bringing together a wealth of agricultural machinery expertise.
1996: The introduction of the Advanced Farming Systems (AFS), showcasing a commitment to innovation.
2006: Launch of the Farmall compact tractors, a modern take on a trusted name.
2012: Case IH celebrates its 170th anniversary, marking nearly two centuries of agricultural evolution.
Different Series of Case Compact Tractors
| Series Name | Horsepower Range | Notable Features |
| --- | --- | --- |
| Farmall Series | 30 – 50 HP | Compact design for maneuverability, Advanced fuel efficiency, Versatile for both agriculture and landscaping |
| Maxxum Series | 116 – 145 HP | Multi-controller for ease of use, Efficient power with EcoBlue™ HI-eSCR technology, Designed for larger scale farming operations |
| Vestrum Series | 100 – 130 HP | CVXDrive™ continuously variable transmission, Premium cab comfort, Ideal for livestock and mixed farms |
| Luxxum Series | 100 – 120 HP | Agile and flexible for various tasks, High visibility roof panel, Easy-to-use controls for all-day comfort |
| Puma Series | 150 – 240 HP | Full PowerShift or CVXDrive transmission options, Long wheelbase for stability, High-efficiency engines suitable for heavy-duty tasks |
| Steiger & Quadtrac Series | 370 – 620 HP | Industry-leading horsepower, Rowtrac and Quadtrac configurations for reduced soil compaction, AFS Connect™ advanced farming technology |
| Magnum Series | 180 – 380 HP | Efficient power with low operating costs, SurroundVision cab for unparalleled visibility, Advanced suspension systems for a smooth ride |
Manufacturing and Assembly of Case Compact Tractors
Location of Case Factories and Manufacturing Plants
Case IH has established a significant global footprint with its manufacturing prowess. Here's a glimpse into the geographical spread of their production facilities:
Racine, Wisconsin, USA: The historical heart of Case IH where powerful tractors are built.
Fargo, North Dakota, USA: Home to the production of the 4WD Steiger & Quadtrac Series.
Wichita, Kansas, USA: Where the smaller, yet mighty Farmall compact tractors come to life.
Curitiba, Brazil: A hub for tractor production serving Latin America.
Jesi, Italy: Specializes in the assembly of smaller tractor models, including some compact lines.
St. Valentin, Austria: The birthplace of the Maxxum and Puma Series tractors.
Assembly Process
The assembly of a Case compact tractor is a marvel of modern manufacturing, combining precision engineering with rigorous quality standards. Here's a step-by-step overview of the journey from components to finished tractor:
Chassis Assembly: The process begins with the chassis, the tractor's backbone, providing the structure to which all other components are attached.
Engine Installation: Next, the power source of the tractor, the engine, is installed. Case IH engines are known for their reliability and efficiency.
Transmission Fitting: The transmission, an essential component that will dictate the tractor's performance, is carefully fitted to the chassis.
Hydraulics and Electronics: Hydraulic systems for lifting and electronics for monitoring and control are integrated, forming the tractor's circulatory and nervous systems.
Cab Assembly: The operator's cab, designed for comfort and functionality, is then attached, providing the driver with a safe and ergonomic environment.
Front and Rear Axles: The axles, crucial for mobility and power transmission to the wheels, are mounted to the tractor's body.
Wheels and Tires: Depending on the tractor model and intended use, the appropriate wheels and tires are fitted to handle various terrains.
Quality Control: Each tractor undergoes rigorous testing to ensure it meets Case IH's high standards for quality and performance.
Paint and Finishing Touches: Finally, the tractor is painted with the iconic Case IH red, and finishing touches are added, readying it for delivery to dealers and customers.
Inspection and Shipping: Before leaving the factory, each tractor is inspected to ensure it is up to the task for which it was built. It's then shipped to dealerships around the world, ready to tackle the demands of modern agriculture.
Engines Used in Case Compact Tractors
Main Engine Suppliers
Fiat Powertrain Technologies (FPT): A primary supplier renowned for its innovative and efficient engine designs, FPT engines are at the heart of many Case IH tractors, delivering performance and reliability.
Cummins Inc.: Known for robust diesel engines, Cummins supplies some of the power for Case IH's larger tractor models.
Iveco: Part of the same group as FPT, Iveco contributes to the Case IH powertrain lineup with engines that are known for their durability and power.
Different Engine Models Utilized
| Engine Model | Tractor Series Compatibility | Horsepower Range | Key Features |
| --- | --- | --- | --- |
| FPT F5C | Farmall Series | 74 – 106 HP | Turbocharged and aftercooled, Tier 4B emissions compliant, Fuel-efficient performance |
| FPT NEF 6 | Maxxum Series | 116 – 145 HP | 6-cylinder performance, ECOBlue™ HI-eSCR technology for reduced emissions, Engine Power Management for extra power on demand |
| FPT T4B | Vestrum Series | 100 – 130 HP | 4-cylinder efficiency, Common rail injection system, Turbocharged with an intercooler |
| FPT NEF 4 | Luxxum Series | 100 – 120 HP | 4-cylinder turbo, High-pressure common rail system, Tier 4B emissions compliant |
| Cummins QSB6.7 | Puma Series | 150 – 240 HP | B-series reliability, Power and torque for heavy-duty tasks, Advanced combustion design to meet emissions standards |
| FPT Cursor 9 | Magnum Series | 180 – 380 HP | 6-cylinder, 8.7-liter capacity, Efficient power with low operating costs, Long service intervals for reduced downtime |
Key Features of Case Compact Tractors
Transmission Options
| Transmission Type | Models | Features | Benefits |
| --- | --- | --- | --- |
| Hydrostatic | Farmall, Luxxum | Continuously variable, No clutching for speed changes | Easy to operate, Smooth acceleration |
| Synchro Shift | Farmall | Gear-driven, Synchronized shifting | Durable, Good for heavy-duty tasks |
| PowerShift | Maxxum, Puma | Gear-driven with automatic shifting, Multiple gears available | Efficient power transfer, Good for varying load conditions |
| CVXDrive | Vestrum, Magnum | Continuously variable transmission, Automatic or manual speed control | Fuel-efficient, Precise speed control |
Implements and Attachments
Case compact tractors are compatible with a wide range of implements and attachments, enhancing their versatility:
Front Loaders: For material handling, from manure to mulch.
Backhoes: Essential for digging, trenching, and construction work.
Mowers: For efficient grass cutting, be it for lawn care or agricultural management.
Rotary Tillers: Perfect for soil preparation and landscaping tasks.
Snow Blowers: For clearing snow from driveways to large parking areas.
Planters: Making seeding more efficient and precise.
Balers: For hay and straw baling in farming applications.
Advantages of Case Compact Tractors
Reliability and Durability
Case compact tractors are not just machines; they are long-term investments in efficiency and productivity. Here are some case studies that showcase their endurance:
Midwest Farm Case Study: A family-owned farm in Iowa has been using the same Case IH Farmall tractor for over a decade, reporting minimal downtime and consistent performance, even during peak harvest seasons.
Landscape Business Review: A landscaping business in Colorado chose Case compact tractors for their fleet and saw a 20% increase in project turnaround time due to the tractors' reliability.
Safety Features
The safety of operators is paramount, and Case compact tractors come equipped with a suite of safety features:
ROPS (Roll-Over Protection Structure): Ensures operator safety in the event of a rollover.
PTO (Power Take-Off) Shielding: Prevents entanglement in the PTO shaft.
Seat Belts: A basic yet crucial feature for operator security.
Safety Lights and Reflectors: For visibility during early morning or late evening work.
Popular Case Compact Tractor Models
Specific Models from Each Series
Farmall 95C:
Horsepower: 95 HP
Engine: 3.4L FPT turbocharged diesel
Transmission: 12×12 Power Shuttle
Hydraulics: Open center system with a high-flow pump
PTO: Electro-hydraulic 540/1000 RPM
Product Feature: The Farmall 95C is renowned for its versatility and power in a compact frame, making it a favorite for both field and loader work.
Maxxum 110:
Horsepower: 110 HP
Engine: 4.5L FPT with Engine Power Management
Transmission: 16×16 Semi-Powershift
Hydraulics: Closed center load sensing system
PTO: Standard 540/1000 RPM with auto PTO management
Product Feature: The Maxxum 110 stands out for its blend of power and efficiency, suitable for a wide range of agricultural tasks, from plowing to planting.
Overview of Features and Specifications
| Feature/Specification | Farmall 95C | Maxxum 110 |
| --- | --- | --- |
| Engine Displacement | 3.4L | 4.5L |
| Rated Engine Power | 95 HP | 110 HP |
| Transmission Type | 12×12 Power Shuttle | 16×16 Semi-Powershift |
| Hydraulic System | Open center | Closed center load sensing |
| Rear Lift Capacity | 7,200 lbs | 7,937 lbs |
| Standard PTO | 540/1000 RPM | 540/1000 RPM |
| Cab Features | Deluxe cab with high visibility roof panel | SurroundVision cab with high visibility roof panel and optional suspended cab |
| Technology Options | AFS Ready | AFS Pro 700 display with full guidance capabilities |
Buying and Owning a Case Compact Tractor
New vs. Used Purchase Considerations:
When considering a Case compact tractor, weighing the options between new and used is crucial. Here's a checklist to guide your decision:
New Purchase:
Pros
Latest technology and features
Full manufacturer's warranty
Lower financing rates
No wear and tear
Cons
Higher upfront cost
Immediate depreciation
Used Purchase:
Pros
Lower purchase price
Less depreciation
Potentially, more tractor for your money
Cons
Possible wear and tear
Shorter lifespan of parts
Limited or no warranty
Checklist for Used Tractors:
Check service history and maintenance records
Inspect for physical damage or repairs
Test all mechanical functions
Verify hours of operation
Consider future availability of parts and service
Maintenance Tips
Maintaining your Case compact tractor is essential for its longevity and performance. Here's a step-by-step guide to best practices:
Regularly Check Fluid Levels: Engine oil, coolant, and hydraulic fluids should be checked and topped off as needed.
Inspect and Clean Air Filters: A clean air filter ensures your engine breathes properly.
Keep It Clean: Dirt and debris can lead to rust and corrosion. Regular washing will protect your tractor.
Tire Maintenance: Check tire pressure and tread wear to ensure safety and efficiency.
Regular Service: Follow the manufacturer's service schedule for oil changes, filter replacements, and other routine maintenance.
Winter Storage: If storing for winter, clean thoroughly, change the oil, and consider a fuel stabilizer.
Final Thoughts
As we've journeyed through the world of Case compact tractors, it's clear that these machines are more than just tools; they are the lifeblood of modern agriculture and construction. The intricate dance of engineering prowess, technological advancement, and robust design that Case IH brings to the table is a testament to their commitment to excellence. These tractors are not just manufactured; they are crafted with a legacy of innovation and a future of productivity in mind.
In the end, a Case compact tractor is not just a purchase; it's an investment in a legacy of hard work and a partner in cultivation—of land, of industry, and of life. As you consider the roar of the engine and the hum of the hydraulics, remember that with every turn of the soil, a Case tractor is not just performing a task, but enabling a future.
Case Compact Tractors Manufacture (FAQs)
Are Case and New Holland the same?
Case IH and New Holland are both brands under the CNH Industrial umbrella. They operate as sister brands, with each having its own distinct history and product lines, although they share some technologies and resources due to their common parent company.
Are case tractors reliable?
Case IH tractors have a reputation for reliability, which is supported by their use in a variety of demanding agricultural tasks. They are known for durable construction and longevity, with many users reporting satisfaction with their performance over many years of service.
Where are case tractors made?
Case IH tractors are manufactured in several locations around the world. Major production facilities are located in the United States, particularly in Racine, Wisconsin, and Fargo, North Dakota, as well as in other countries including Brazil and Italy.
Who bought Case tractors?
Case Corporation was acquired by New Holland N.V. in 1999 to form CNH Global, which later became part of CNH Industrial in 2013. This merger brought together two leaders in the agricultural and construction equipment industries.
Who makes the Farmall C series tractors?
The Farmall C series tractors are made by Case IH. The brand continues the legacy of the original Farmall tractors, which revolutionized agriculture in the early 20th century, with modern models designed to meet contemporary farming needs.
What is the lift capacity of the Compact Farmall tractors, and how does it benefit daily chores?
The Compact Farmall tractors boast a lift capacity that allows for handling heavy loads efficiently, making them ideal for a variety of chores on the farm. This high lift capacity ensures that tasks such as baling forage or moving large supplies can be done with ease, enhancing uptime and productivity.
How does the CVT feature in new Farmall tractors improve their performance?
The Continuously Variable Transmission (CVT) in new Farmall tractors provides seamless changes in speed, traction, and torque without the need for gear shifting. This results in smoother operation, especially when performing tasks that require precise speed adjustments, ultimately improving the tractor's efficiency and mechanical power.
Who is Greg Lucey, and what is his role with Farmall tractors in North America?
Greg Lucey is the Farmall Tractors Marketing Manager for Case IH in North America. He is responsible for overseeing the promotion and marketing strategies of Farmall tractors, ensuring that the brand's legacy continues to meet the evolving needs of modern agriculture.
What are some of the standard features of CaseIH Compact Farmall tractors that support heavy-duty tasks?
Standard features of CaseIH Compact Farmall tractors include a robust MFD (Mechanical Front-Wheel Drive) for improved traction, a powerful PTO (Power Take-Off) HP for running implements, and a durable hood design that withstands the rigors of heavy-duty tasks. These features collectively contribute to the tractor's capability to manage heavy loads with reliability.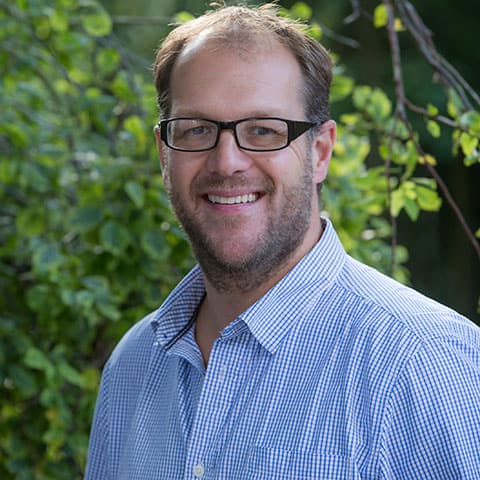 Chris has 15 years of experience using all the latest technologies, machinery, and equipment available on the market today. His diverse experience allows him to provide homeowners with the best possible results while saving them a lot of time and money. When it comes to Lawn Tractors, Chris knows every model there is – so if you're looking for advice, he's your man!