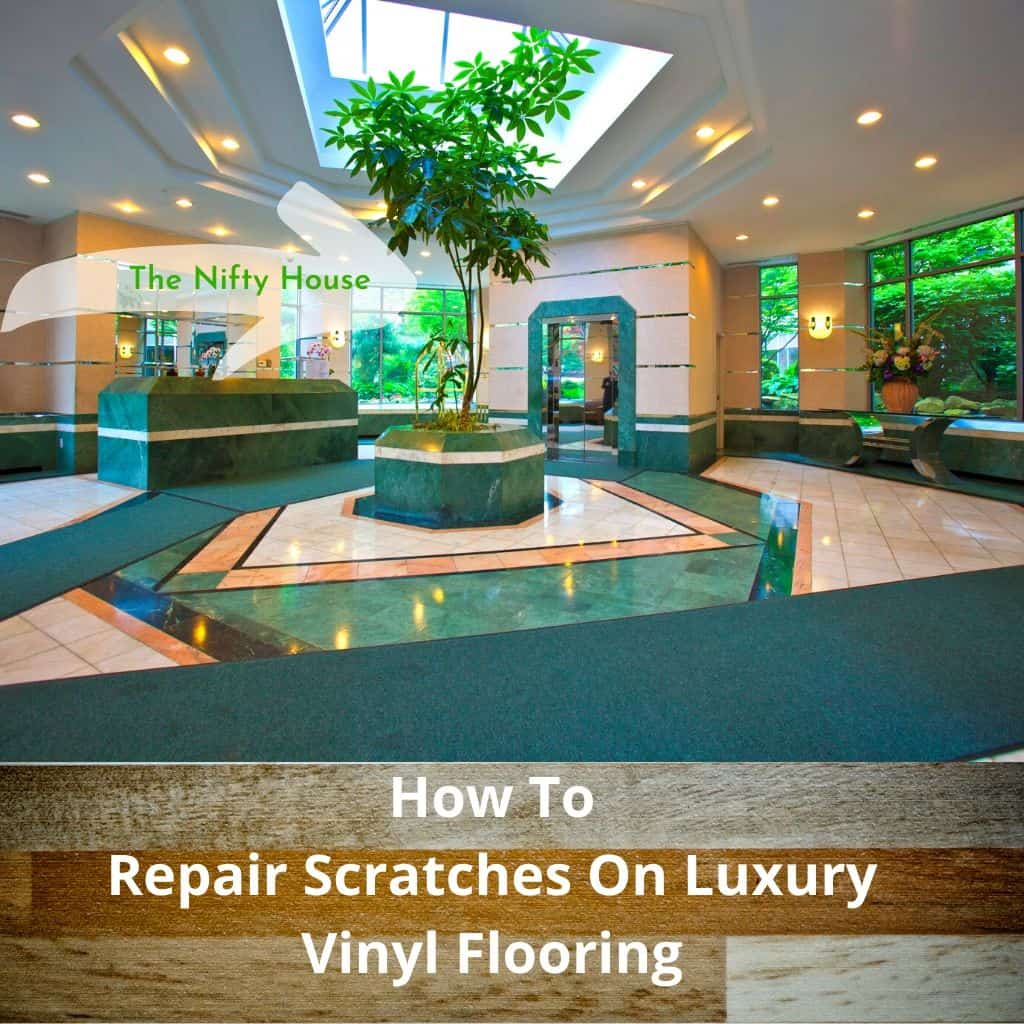 If you are looking for a tutorial on how to repair scratches on luxury vinyl flooring.
You come to the right place. This article definitely helps you. 
We also have some additional information related to vinyl flooring that will take you one step ahead. Onward you can repair scratches following the simple best way. Lets' dive into the main topic.
Vinyl flooring gives our homes the natural beauty that we all crave for. It adds value to the overall visual of our home and gives appeal to the eye. Although vinyl flooring is known to be durable, it can get damaged.
The dull or scratched vinyl floor feels unwelcoming to our eyes. Especially when your tiles are designed to mimic a substance (e.g., tiles), the scratches give away a natural look. That's why repairing and maintaining scratches is essential.
How You Can Prevent Acquiring Scratches of Luxury Vinyl Flooring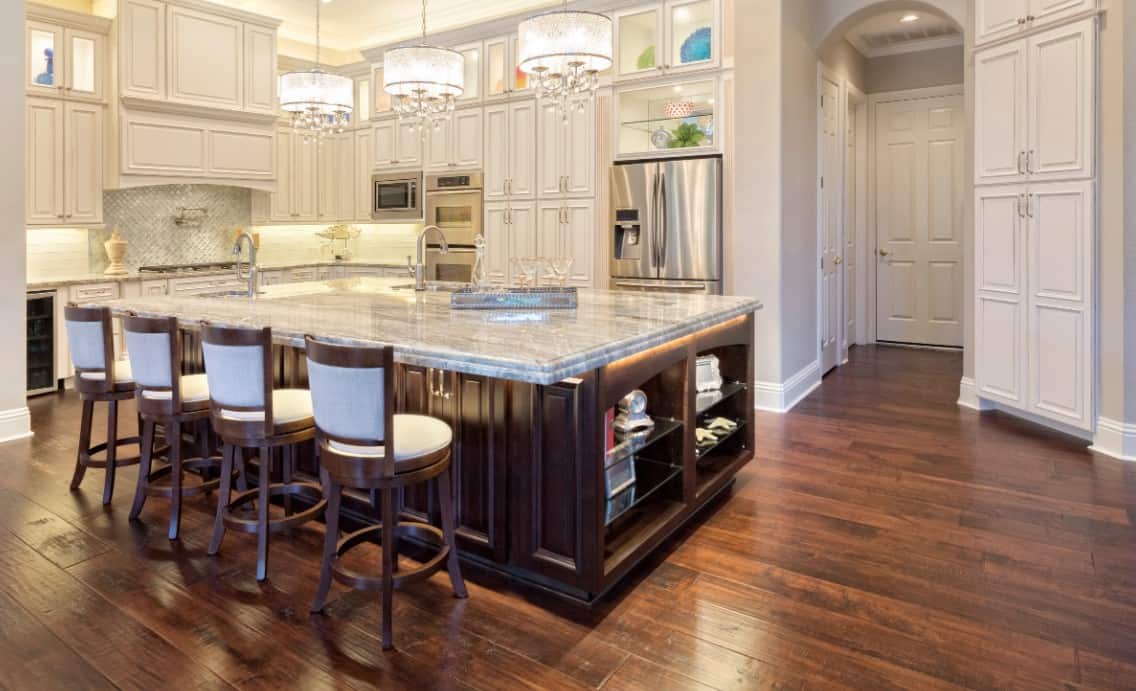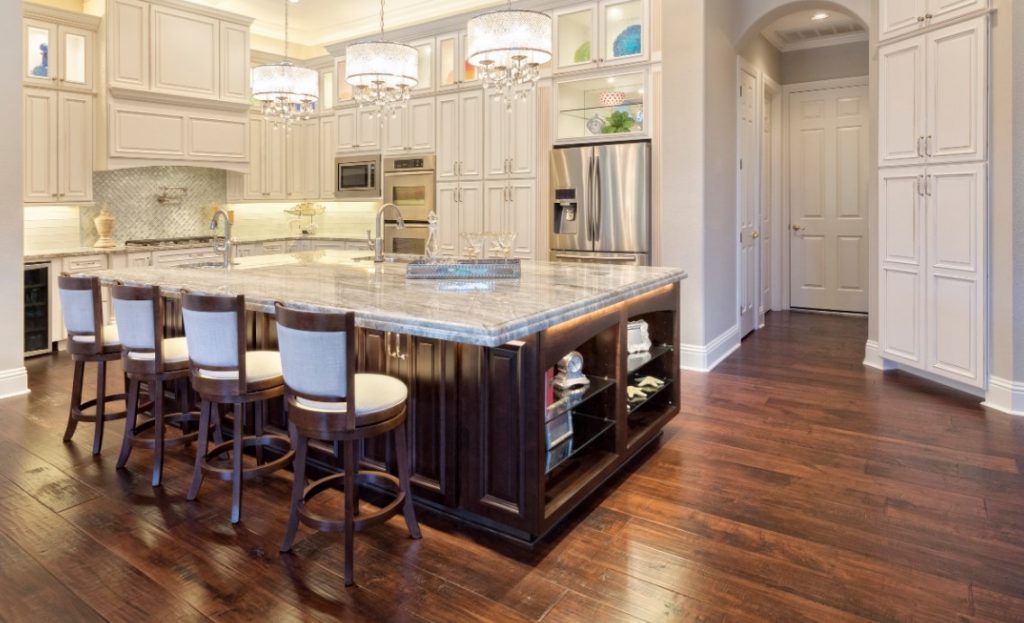 There are several ways your floor acquires stains. We will point out the most common causes of scratches:
Furniture: Furniture and appliances can damage your floors efficiently. Heavy furniture can quickly put scratches on the floor while pushed around. Place plywood over the floor and use it to slide furniture or appliances. You can also use floor protectors to prevent dents. Simply put them under the furniture legs. It's better to avoid items with casters at the bottom. Double wheel casters are safer than single-wheel casters comparably.
Dirt from Door Entrance: Adding a mat to entrances of any room can reduce scratch risks. Especially when the entrance that leads outside. Dirt can be abrasive and scratch the floor. It sticks to our foot and can scratch the floor while you walk. To prevent this, put mats at the entrance. You also need the right type of mat. Avoid mats with rubber or latex back. This type of carpet may chemically interact with the floor. Choose mats with vinyl-back or choose a colorfast woven rug. A cloth will prevent dirt or other materials from sticking with your shoes from entering the room.
Cleaning and Shining Products: Don't use solvent-based polishes to shine your vinyl floor. Also, try to avoid products that add wax to the floor unless your floor has wax. Older floors can be waxed. Avoid using soap to clean the floor. These can dull the look of your floors.
How to Remove Scratches from Vinyl Flooring?
Your luxury vinyl tile may be scratch-resistant, but after a certain time, it may acquire a scratch. Scratched vinyl tiles are unsightly to look at, but it can be repaired. It's not a difficult task, not even for beginners.
There are several ways to repair your scratches. Using some commercial products can help you save some tedious works and hassle. We will explain the easiest and most effective ways to fix those unwanted scratches from your luxury vinyl floors.
3 Steps Solution to Repairing Scratches on Luxury Vinyl Tile
Things You'll need:
A bucket with warm water
Sponge
Dishwashing Liquid
Sandpapers (P320, P500, P800)
Car rubbing compounds
Clean Cloths
Mix 1/4 cup of dishwashing liquid with warm water. Now soak the sponge in the mixture and clean the floors with it. Make sure to remove everything from the inner layer of the scratch. Don't proceed to the next step before you see the spot thoroughly cleaned and sparkling. Give the floor some time to dry up.


The purpose of sanding is to polish and smoothen the scratches. To get the best results, you should use 3 types of sandpapers. Sand lightly with each grit type to prevent ruining the finish of the tile. Be careful because if you rub too hard, you may score the tile. In this case, you'll have no option left but to replace the whole flooring. Don't attach the sandpaper to an orbital or disc sander, which spins too quickly. It's best to use your hands to and rub softly.
Start with the medium course p320 grit sandpaper. Wipe and rub in the same direction as the scratch using the sandpaper. Rubbing out the edges of the scratch and smoothing it is essential. You'll be able to rub out most of the scratch with this grade of sandpaper.
Now take the finer p500 grit sandpaper. Rub the paper in a circular motion within the area of the scratch. This will remove wax on the top of the tile, preparing it for waxing later. Again, be careful with the rubbing. Be gentle while you rub, or you may ruin the finishing of the tile.
Lastly, graduate to a p800 grit sandpaper. Rub it on the scratch in the same manner as before. Rub gently until the scratch is smooth and leveled with the tile. Touch the spot with your fingertips to check if it is even.
Now wash the tile. Use clean water and fresh cloth. Make sure you wipe out all the dust created during the sanding. Wait for the floor to dry up before continuing.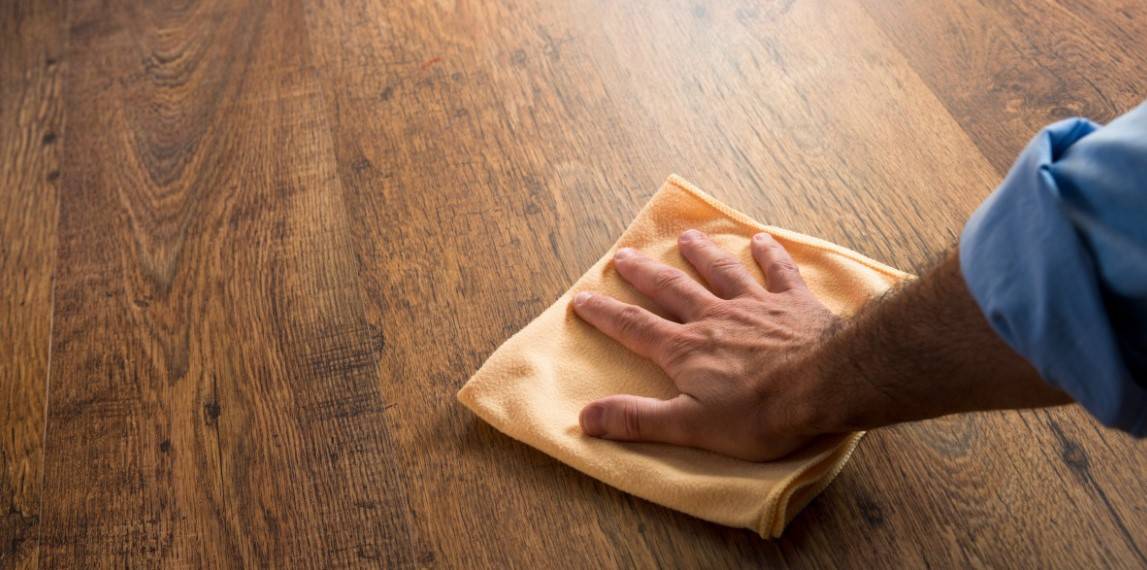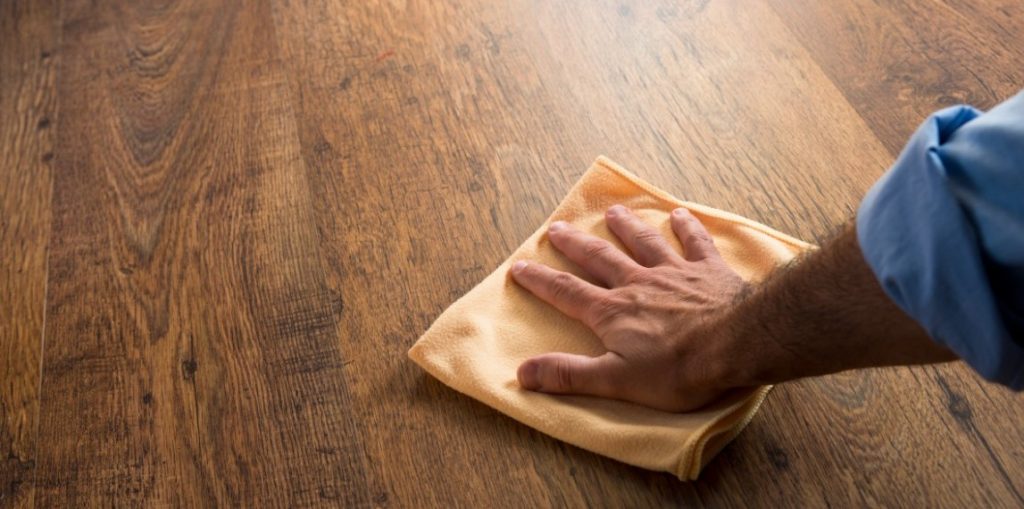 In order to wax the tile, you'll need a good quality car rubbing compound. A small amount of car wax can effectively polish and restore the luster of vinyl materials. Pour a little amount of the mixture onto a clean cloth.
Now use the cloth to wax the tile lightly, especially on the scratched area. Rub with the fabric in a circular motion until the flooring shines as it used to before. Remove any excess wax from the tile. Now wipe the floor with a clean cloth, and you're done. If done correctly, you'll no longer see the scratch. Also, you can use commercial products as well.
Step 4: Use Wearmax Scratch Concealer
5 simple straightforward application procedure
How to get the best result when using Wearmax Scratch Concealer to hide the scratches?
If you are not willing to go through the manual process, then this Scratch Concealer products can be convenient for you. WearMax Scratch Concealer for Luxury Vinyl Tile (LVT) Flooring is super easy to use. This vinyl floor scratch repair is also successfully resistant to stains, water, and abrasions.  
Here's a guide on how to use this product to hide any pesky scratch marks without replacing boards or calling the professional.
Pros and Cons of WearMax Scratch Concealer
Will this scratch remover work on all types of vinyl floors?
YES. I am personally not to use it on several types of vinyl floors. When I use it on Luxury Vinyl Flooring, I am delighted. 
But I research it and found that it works well on the various vinyl floor regardless of the color. such as:
Grey vinyl floor
Brown vinyl floor
Alder vinyl floor
Pear vinyl floor
Apple vinyl floor
Majestic oak vinyl floor
Ebony walnut vinyl floor
Barrel vinyl floor
Barn wood vinyl floor
Whiskey barrel vinyl floor
Also, you will the best result on luxury vinyl planks that have aluminum oxide.
Does this product really hide the visible scratches?
Of course. It can perfectly hide visible scratches. Without a specific inspection, nobody sees the scratches on the floor surface.
Now you know how to repair scratches on luxury vinyl flooring. You may have felt it to be quite a hassle, but it turned out fine and straightforward, didn't it? Beginning to end, it's fast, and anyone can do it just fine. Just pay attention to your vinyl floor from time to time, and whenever you see a scratch repair it right away.
Repair Scratches On Luxury Vinyl Flooring (FAQs)
Out of all the hardwood floors, vinyl flooring is one of the best options. Especially, when you are looking for natural beauty. Vinyl flooring delivers natural beauty with less required maintenance. Choosing the right luxury vinyl option will bring the class that you are trying to add to your space. Cheap and luxury vinyl floorings may look similar from afar, but once close enough, you can tell them apart.
Now let's look at the advantages and
disadvantages of luxury vinyl floorings. The pros and cons go as below:
Captures the aesthetic of hardwood flooring       
Resistant to spill
Resistant to scratches
Feels softer underfoot compared to hardwood flooring
Not much maintenance is required
Shaw's Luxury Vinyl: Shaw is a pioneer in manufacturing luxury vinyl floorings. With shaw's, you get various types of vinyl. There are Classico, Premio, Aviator, Navigator, Easy Street. All of these have their own values and differences. Choose the one that suits you the most.
If you seek to extract value, choose from aviator and navigator.
Classico has basic hardwood finishing.
Easy street is superior and durable.
Premio is often considered the best of its kind.
Karndean Art Select: This one manufacturer is a bit old school and pricey. Don't worry about the price as it is right for all reasons. This luxury vinyl is rare and does not come with a self-stick adhesive. Instead, it uses loose lay that uses a heavy soft backing that grips the floor. This ensures that ridges are avoided. If you like old school designs and want value go for Karndean Art Select.
Lumber Liquidators Tranquility: If you look at the more economical choices in luxury vinyl planks. Lumber Liquidators Tranquility is a more affordable choice. Thickness options are ranging from 1.5mm to a maximum of 5mm with 7″ width. These planks will have no problems in places where less traffic is involved.